Tangy, spicy buffalo chicken breast paired with celery, carrots, and Greek yogurt ranch makes for a satisfying, low-carb lunch or dinner meal prep. Can be made on the grill or in the oven.
I love buffalo wings but since they are little fat bombs they don't always fit into my macros so well. Luckily, I've found a healthier way to make it that will satisfy my cravings and keep me on track.
It's low carb, low sugar, gluten-free, keto, and all that other good stuff. Because it is so satisfying and tasty, it makes it into my lunch and dinner meal prep rotation quite often!
Ingredients
Chicken Breast – I recommend using fresh organic chicken breast as the frozen kinds are often pumped full of a saline solution to make them look bigger. If you are using frozen, be sure to safely thaw the chicken in the fridge before cooking.
Hot Sauce – Frank's RedHot Sauce is the standard choice for buffalo chicken. You can, however, substitute another hot sauce of your choice.
Butter – A little butter mixes with the hot sauce to make our buffalo sauce. You can substitute ghee, or even something like avocado oil if you'd prefer.
Vegetables – I used celery and carrot sticks because they are classically paired with wings, but feel free to sub a healthy simple green salad or other veggies.
Greek Yogurt Ranch – I like to dip both the chicken and veggies in here. I use a store-bought greek yogurt ranch for convenience. Feel free to make your own or leave it out entirely if it does not suit your diet.
Tips
Want to make it spicier? Use a spicier hot sauce, like Heartbeat, or simply add as much cayenne powder to your sauce as it takes to get to your preferred level of spice.
Looking for shortcuts? Instead of grilling chicken breast, buy a rotisserie chicken and shred it, then toss in the buffalo sauce. Also, buy precut carrot and celery sticks.
Need carbs? Add some quinoa, white rice, or brown rice on the side.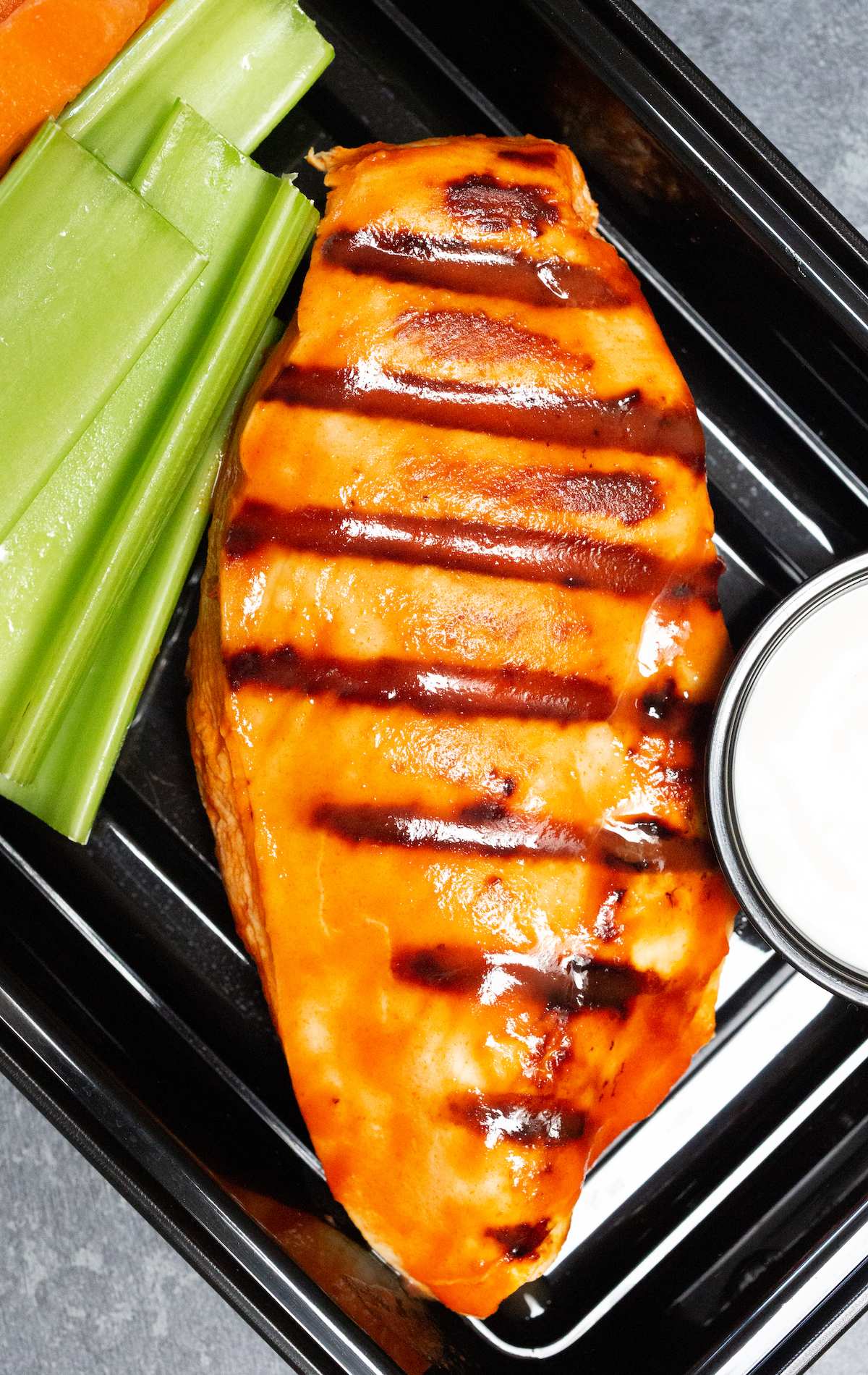 Related Meal Prep Recipes
Print
Buffalo Chicken Meal Prep
A healthy low-carb meal prep featuring chicken breast covered in a satisfying buffalo sauce.
Author:
Prep Time:

5 minutes

Cook Time:

15 minutes

Total Time:

20 minutes

Yield:

4

Category:

Main Dish

Cuisine:

American
Ingredients
4 Chicken Breasts
1 Tbsp Oil (vegetable, olive, or avocado)
1.5 teaspoons Salt
1 teaspoon Pepper
1/2 Cup Frank's RedHot Sauce
1/4 Cup Butter (or oil like avocado)
8 oz Carrot Sticks
8 oz Celery Sticks
4 oz Greek Yogurt Ranch
Instructions
Grill
Preheat your grill on high for 10-15 minutes, until it is about 450F.
While the grill is preheating, brush your chicken with oil and season both sides with salt and pepper.
Cook five minutes on each side. ( I recommend checking your chicken's internal temperature with an electric thermometer at this point, to ensure it is 165F at it's thickest part.)
Remove from the grill and let rest for 5 minutes (you can make the sauce below while you wait).
Oven
Preheat your oven to 425F.
While the oven is preheating, brush your chicken with oil and season both sides with salt and pepper.
Place your chicken on a baking sheet (I recommend using parchment paper or a silpat) and cook for 20 minutes, until chicken is done.
Remove the chicken from the baking mat and place on a cutting board. Allow to rest for 5 minutes while you make the sauce below.
Sauce
Add the butter to a medium saucepan over medium heat. Once the butter has melted, add the hot sauce and stir to combine. Allow to simmer 1-2 minutes, stirring occasionally.
Remove from heat and drizzle or brush over your chicken breast.
Meal Prep
Divide the greek yogurt into four small sauce containers and seal with lids.
Prepare four meal prep containers. Add the carrot and celery sticks as well as the ranch.
Add your chicken breast once it has completely cooled, then seal your meal prep containers with their lids.
Store in the fridge up to 5 days.
Keywords: chicken meal prep, low carb lunch
8