Greek has always been one of my favorite take-out foods. While making my most recent lunch meal prep menu, I thought I'd try to incorporate all my favorite Greek flavors into a healthy easy-to-make dish.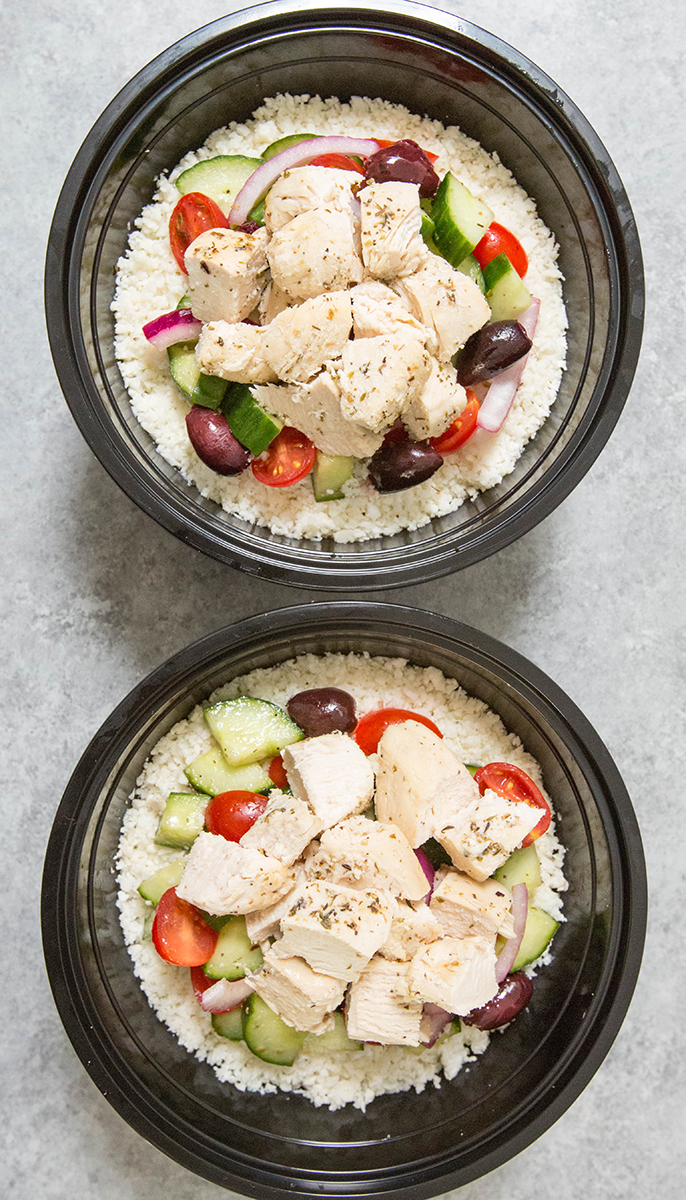 I simply marinated the chicken breast in Greek yogurt and seasonings with a squeeze of lemon. I made the chicken on the stove top, but you could also easily throw it on the grill. I also added some Greek marinated veggies and placed it all on a bed of cauliflower rice.
I chose cauliflower rice because I am cutting down on carbs, but if you're bulking or need more calories, feel free to substitute brown or white rice and even quinoa. Using spinach or a greens mix will turn it into a delicious salad!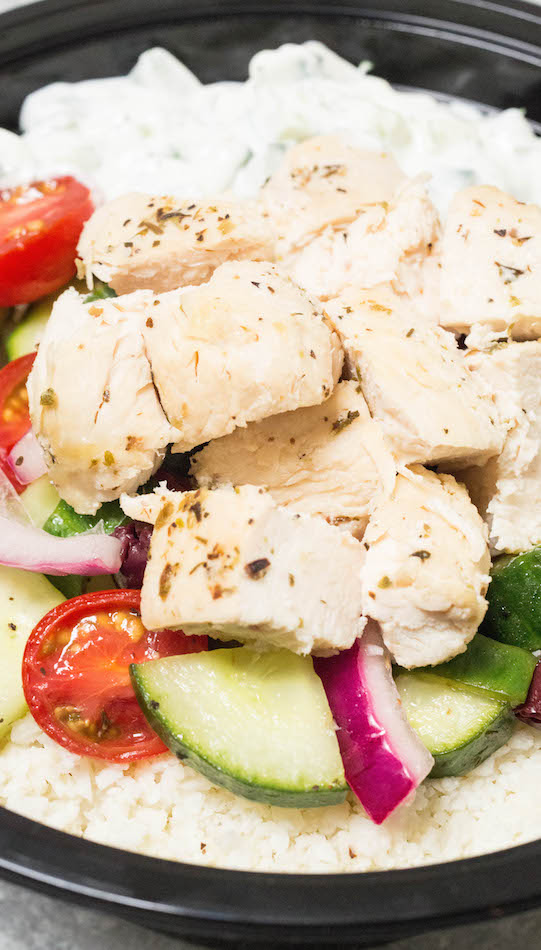 I also like to add homemade Tzatziki sauce to my Greek bowls, unless I'm restricting dairy. I generally don't add it to my meal prep bowls until the day I'm going to eat them. I've found this is the best route to keep everything fresh and from getting soggy.
Ingredients
Chicken Breast
Olive Oil
Garlic
Lemon Juice
Red Wine Vinegar
Dried Oregano
Greek Yogurt
English Cucumbers
Cherry Tomatoes
Red Onion
Kalamata Olives
Fresh Dill
Cauliflower
Other Healthy Lunch Meal Prep Ideas:
Print
Healthy Greek Chicken Bowl Meal Prep Recipe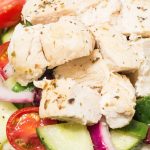 Author:
Yield:

4

Category:

Main Dish

Cuisine:

Greek
Ingredients
Chicken Ingredients
1.5 lbs Boneless Skinless Chicken Breasts
1/4 Cup Olive Oil
3 Cloves Garlic, minced
1/3 Cup Lemon Juice
1 Tablespoon Red Wine Vinegar
1 Tablespoon Dried Oregano
1/3 Cup Greek Yogurt
Salt & pepper, to taste
Greek Vegetable Ingredients
2 English Cucumbers
1 Cup Grape Tomatoes
1/2 Cup Red Onions, sliced
1/3 Cup Kalamata Olives
1/3 Cup Lemon Juice
2 Tablespoons Olive Oil
1 Tablespoon Red Wine Vinegar
1/2 Teaspoon Dried Oregano
Tzatziki Sauce
1 Cup Greek Yogurt
1 English Cucumber
1 Clove Minced Garlic
1 Tablespoon Fresh Dill
2 Teaspoons Lemon Juice
Salt & pepper
Cauliflower Rice
1 Head of Cauliflower
2 Tablespoons Butter or Oil
Salt & pepper, to taste
Instructions
In a medium bowl, combine all the chicken ingredients except the chicken breast. Stir well. Place the chicken breast in a Ziploc bag, then cover with marinade. Seal the bag and massage the marinade into the chicken. Place in refrigerator for at least 30 minutes, up to 12 hours.
When ready to cook, drain the marinade from the chicken. Add olive oil to a large skillet and turn to medium-high heat. When the oil is hot, add chicken breast and cook for 3-5 minutes on each side (length of cooking time will depend on the thickness of chicken. Check with an instant-read thermometer to ensure chicken has reached 165 degrees F at the thickest part.) Remove from pan and allow to cool for 10-15 minutes.
While waiting for the chicken to cool, make the greek vegetables. Slice the grape tomatoes and coarsely chop the cucumbers. Add both of those and the sliced red onion to a bowl. Toss with the rest of the greek vegetable ingredients and set aside.
To make the tzatziki sauce, combine the greek yogurt, English cucumber, minced garlic, fresh dill, and lemon juice together in a bowl. Add salt & pepper to taste.
Now, take the cauliflower and slice it so that you remove all the florets. Grate the florets on the large holes of a cheese grater. Heat the butter in a large skillet over medium heat. When the butter is hot, add the cauliflower rice and saute for 5-7 minutes. Remove from heat and season to taste with salt & pepper.
To assemble the Greek chicken bowls, add the cauliflower rice to the bottom of 4 meal prep containers. Cut the chicken into bite-size pieces, then place on top of the cauliflower rice. Add the Greek vegetables. You can add the tzatziki sauce on top now, or place in a separate container.
Seal meal prep containers and store in the refrigerator until ready to eat.
Nutrition
Serving Size:

1

Calories:

494

Sugar:

7

Sodium:

865

Fat:

19

Carbohydrates:

19

Fiber:

5.4

Protein:

67
6