Flavorful blackened shrimp are paired with probiotic coleslaw in this healthy, low-carb meal prep. Quick and easy to prepare – 20 minutes or less from start to finish!

Burnt out eating chicken breast? Short on time? Need something low carb? Then this meal prep is for you!
I took shrimp and covered them in blackening seasoning, then sauteed them. They cook in about 8 minutes, so it's one of the quickest proteins you can prepare.
To keep the whole meal prep stress-free, I made probitoic coleslaw for the side. I used a bag of store-bought coleslaw mix and combined it with probiotic sauerkraut and Greek yogurt. It's incredibly healthy and delicious!
Ingredients
Shrimp – I like to use jumbo shrimp if it's available, but any kind of fresh shrimp will work for this recipe. Make sure they already peeled and de-veined.

Blackening Seasoning – You can make your own homemade version of blackening seasoning (this is a good recipe) or use store-bought. I like to use this one.

Oil or Butter – The shrimp will need butter or oil to cook in. Avocado is a great healthy choice.
Coleslaw Mix – Buy the pre-bagged coleslaw mix from the store to save time. It's generally filled with mostly shredded green cabbage, a little shredded purple cabbage, and shredded carrots.
Sauerkraut (optional) – Sauerkraut is a great way to add probiotics to this recipe. Make sure you buy a sauerkraut that says it has "live cultures" on the label.
Greek Yogurt – Using Greek yogurt instead of mayonnaise keeps this coleslaw light and healthy.
Lemon Juice – Make sure to use freshly squeezed lemon juice. The bottled kind has preservatives that greatly alter the flavor and may not be healthy.
Sugar – Coleslaw requires some kind of sweetener to balance out the acidity and bring all the flavors together. I use white sugar, but you can substitute another sweetener, like maple syrup, if you would prefer.
Salt & Pepper – Standard table salt and black pepper is all that's needed to season the coleslaw.
Related Meal Prep Recipes
Print
Blackened Shrimp & Healthy Coleslaw Meal Prep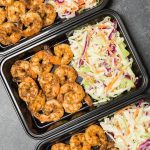 Author:
Prep Time:

9 minutes

Cook Time:

6 minutes

Total Time:

15 minutes

Yield:

4

Category:

Seafood

Cuisine:

American
Ingredients
Blackened Shrimp Ingredients
1.5 lbs Fresh Raw Shrimp, shelled and de-veined
1.5 Tablespoons Blackening Seasoning
3 Tablespoons Butter or Oil
Healthy Coleslaw Ingredients
14 oz Bag of Coleslaw Mix
1/4 Cup Probiotic Sauerkraut (optional)
1/2 Cup Greek Yogurt
2 Tablespoons Lemon Juice
1 Tablespoon Sugar*
1/2 Teaspoon Salt
1/2 Teaspoon Pepper
Instructions
Blackened Shrimp
Place the shrimp in a large mixing bowl. Add the blackening seasoning then gently toss or mix with your hands until the shrimp is coated.
Heat the butter or oil in a large skillet on medium-high heat until it is gently sizzling (about two minutes). Add the shrimp and cook 2-3 minutes on each side until cooked through. (If you can't fit all your shrimp in the pan at once, cook it in two batches. Crowding the pan will result in uneven cooking.)
Remove the shrimp from the pan and set aside.
Healthy Coleslaw
Place coleslaw mix and sauerkraut in a large mixing bowl.
In a smaller bowl, add the Greek yogurt, lemon juice, sugar, salt, and pepper. Use a fork or whisk to thoroughly combine. Pour over the coleslaw & sauerkraut. Gently toss until it is well mixed.
Meal Prep
Prepare four meal prep containers. (If you are worried about the blackened shrimp and coleslaw mixing, be sure to use a divided meal prep container).
Divide the blackened shrimp evenly among each meal prep container, then do the same with the coleslaw. Seal the containers and store in your refrigerator until ready to eat.
Notes
*You can substitute maple syrup or another sweetener of your choice
22