Flavorful marinated & grilled flank steak, peppers, and onions pair with cauliflower rice to create this low-carb meal prep recipe.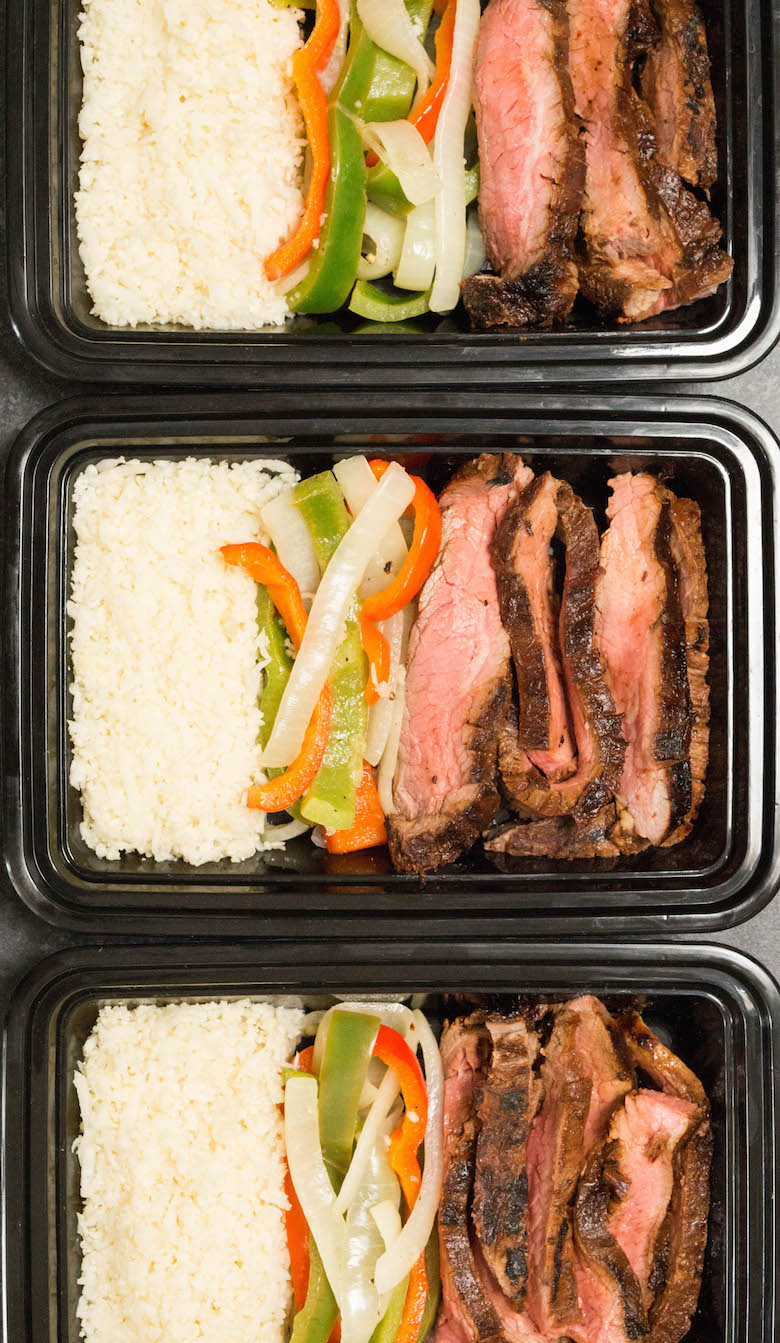 Grilling is one of my favorite ways to make meal prep "fun", so these steak fajitas with cauliflower rice are always in my menu rotation.
Steak fajitas are generally made with skirt steak, which is an inexpensive cut of beef. The peppers, onions, and cauliflower are also inexpensive, so this makes a great budget-friendly meal prep recipe.
I choose to use cauliflower rice because I am generally trying to eat a low-carb diet, but you can substitute traditional rice or include tortillas to serve the steak and veggies in.
More Low-Carb Meal Prep Recipes
This post contains affiliate links (when you buy we make a little $ at no cost to you). See our disclosure for more information.
Print
Steak Fajitas Meal Prep Box with Cauliflower Rice
Author:
Prep Time:

1 Hour

Cook Time:

10

Total Time:

1 hour 10 minutes

Yield:

4
Ingredients
Flank Steak
1/4 Cup Soy Sauce
1/4 Cup Lime Juice
1/3 Cup Vegetable Oil
1 Tablespoon Chili Powder
2 Teaspoons Ground Cumin
1/2 Tsp Cayenne Pepper
4 Cloves Garlic, peeled and smashed
2lbs Flank Steak
Peppers & Onions
1 Tablespoon Butter
1 Large White or Yellow Onion
2 Green Bell Peppers
2 Red Bell Peppers
Juice from 1/2 Lime
1 Clove Garlic
Salt & Peppers
Cauliflower Rice
1 Head Cauliflower
1 Tablespoon Butter or Oil (like vegetable, coconut, or avocado)
Salt & Pepper
Instructions
Flank Steak
Add soy sauce, lime juice, vegetable oil, chili powder, cumin, cayenne, and garlic cloves to a medium bowl. Stir gently with a fork until well combined.
Add flank steak to a gallon ziploc bag or another sealable container along with the marinade. Seal and sit in the fridge. Allow to marinate 1-12 hours. (Skip ahead to prepping the vegetables while waiting.)
After the steak has marinated, fire up your grill and set it on medium-high. Remove flank steak from the marinade and pat dry with a paper towel.
After grill has preheated for about 15 minutes, lay your flank steak directly on the bottom grates and cook for 3-4 minutes each side. Move steak up to higher grates off indirect heat, shut lid, and cook about another 5 minutes until the thickest part of the steak is 135 F (I use this instant read thermometer to check).
Remove from grill and set aside on a cutting board for to rest for 15 minutes.
While it is resting, prepare four meal prep containers. Evenly distribute the cooked cauliflower rice as well as the peppers and onions between the containers.
Thinly slice the steak against the grain and add 1/4 of the meat to each container. Once everything has completely cooled, seal all of the containers and store in the refrigerator until ready to eat.
Peppers & Onions
While meat is marinating, slice the bell peppers and onions.
Add the tablespoon of butter to a large skillet over medium heat. Once butter is melted, add onions and bell peppers to the skillet. Saute for 7-10 minutes, until vegetables are slightly tender.
Add garlic and saute one more minute. Add lime juice, salt, and pepper. Gently stir and set aside to cool.
Cauliflower Rice
Here are the instructions for how to make cauliflower rice. Follow and set aside to cool.
9