These homemade bagel bites made three ways are a delicious freezer meal prep recipe! Perfect for lunch, dinner, or even a midday snack.
If you ever wanted to meal prep pizza, this is the freezer recipe for you! These homemade bagel bites are going to fulfill all your dreams!
Freezer meals have slowly become the pinnacle of my budget focused meal prep plan and I can pretty much guarantee you that there's always a bag or two of these homemade bagel bites around.
I can make a month's worth in less than 30 minutes and they save me from ordering pizza or getting fast food when I haven't done a good job planning ahead.
Since I like variety, I made three different kinds of bagel bites for this recipe: pepperoni, supreme, and 3-cheese.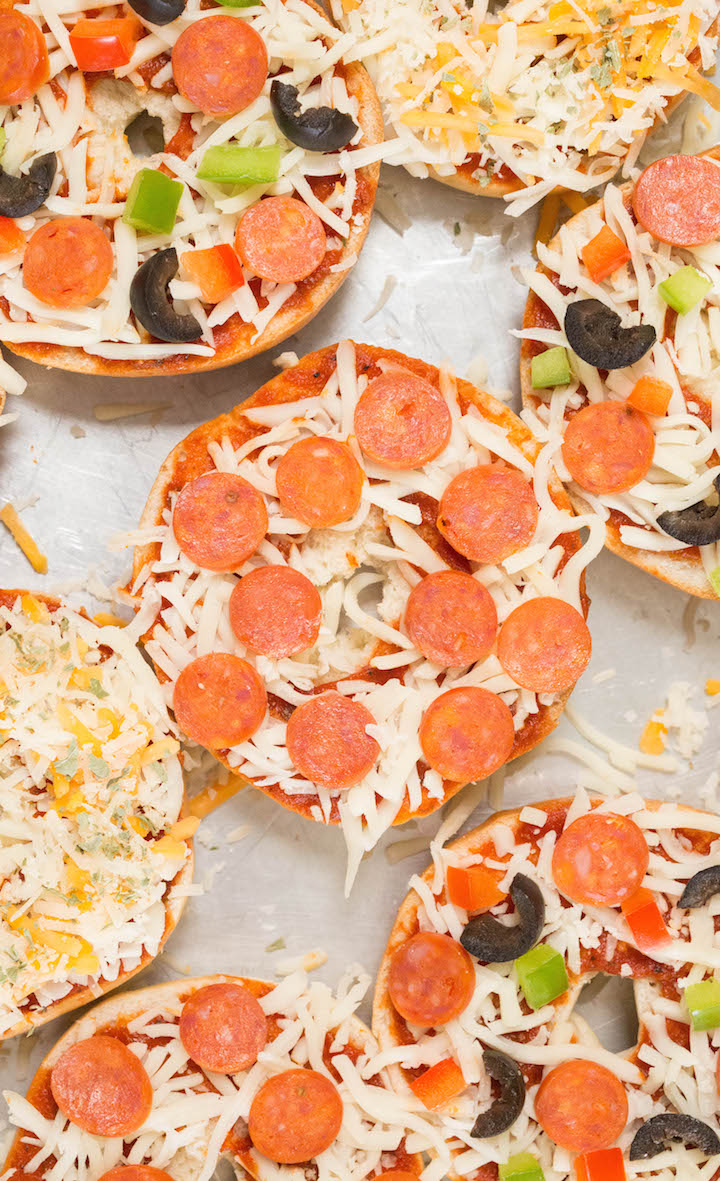 One of the great things about homemade bagel bites is that you aren't bound by traditional toppings. You can easily customize them to your personal tastes. Next time, I plan on making a Hawaiian or BBQ chicken version.
Homemade Bagel Bite Ingredients
Mini Bagels
Pizza Sauce
Mozzarella Cheese
Toppings (I used mini pepperonis, bell peppers, sliced olives, cheddar cheese, Parmesan cheese and Italian herbs)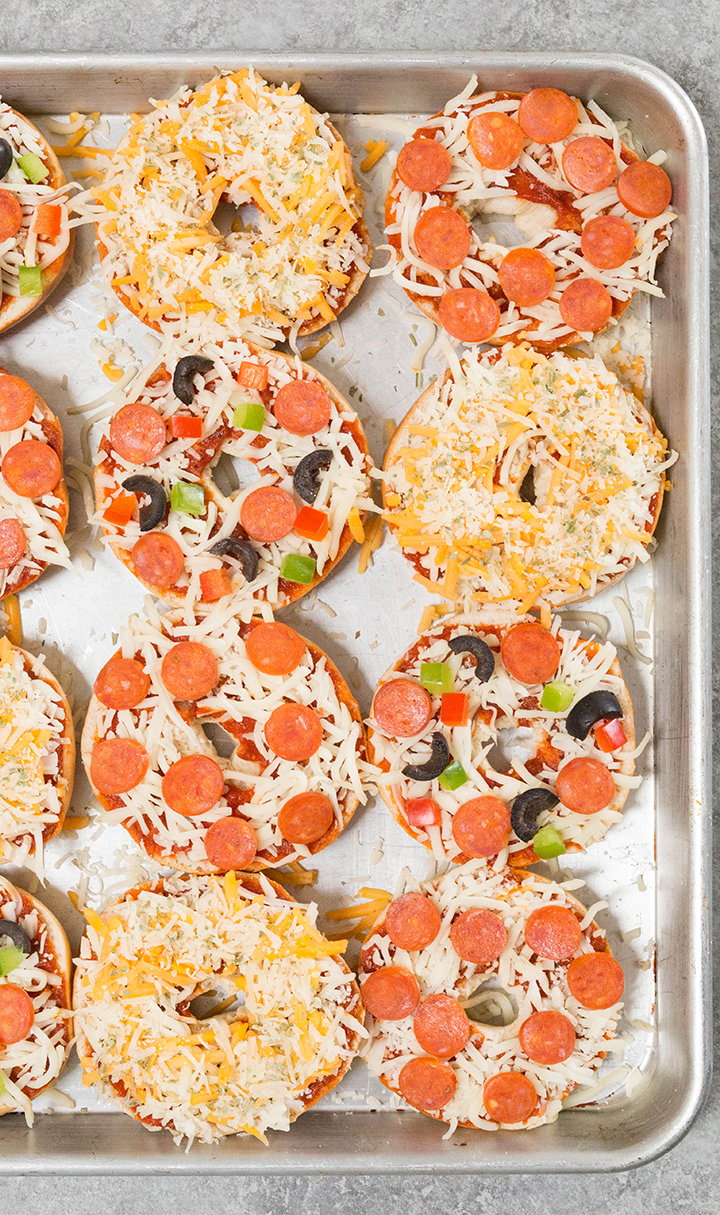 You can find bags of already made mini bagels at most grocery stores. I used the Thomas brand for this recipe, which come 10 bagels to a bag. Sliced in half this makes 20 homemade bagel bites.
To keep things simple, I use organic store-bought pizza sauce. If you have the time, you can make your own at home. If for some reason you don't care for pizza sauce, you could just spread on a little olive oil or Alfredo sauce to make a white pizza.
If you can't find these adorable mini pepperonis at your grocery store, simply cut traditional sized ones into quarters.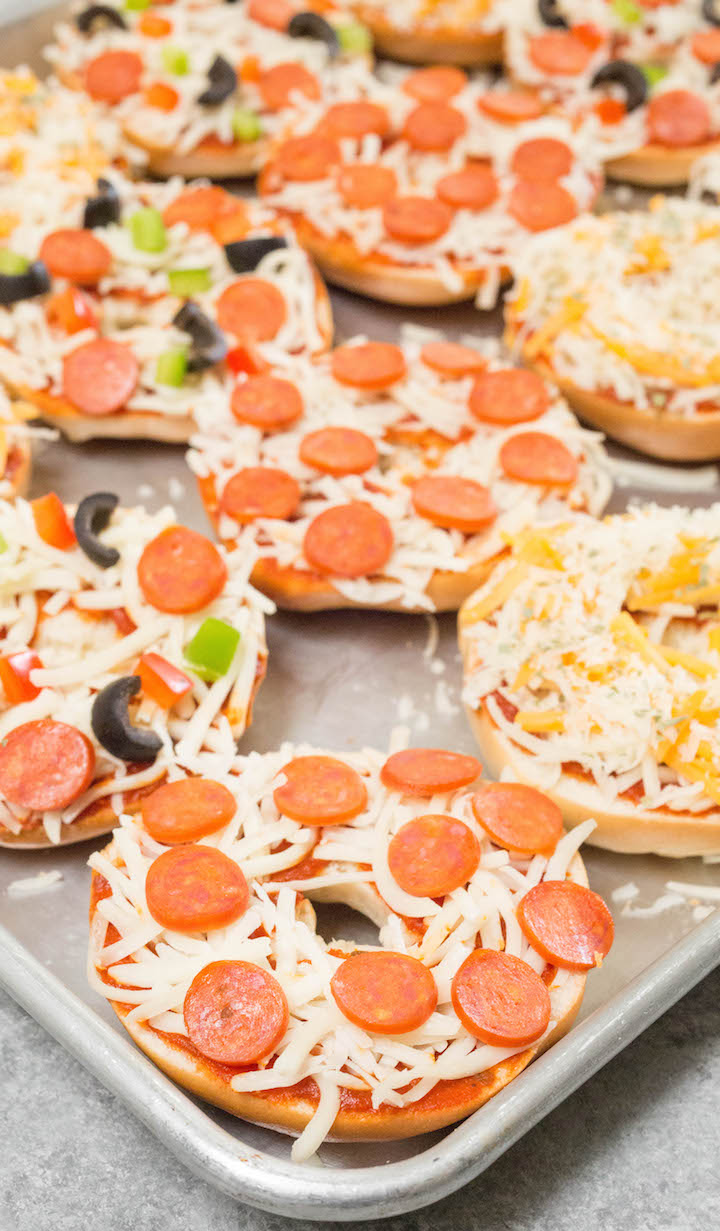 How To Make Homemade Bagel Bites
Making homemade bagel bites is as simple as placing the bagel halves face up on a baking sheet, spreading the pizza sauce, then adding the cheese and other desired toppings.
Place the baking sheet in the freezer for an hour or two so that the toppings are frozen in place, then move to a Ziploc bag or other freezer-safe airtight container. Seal and store in the freezer for up to three months.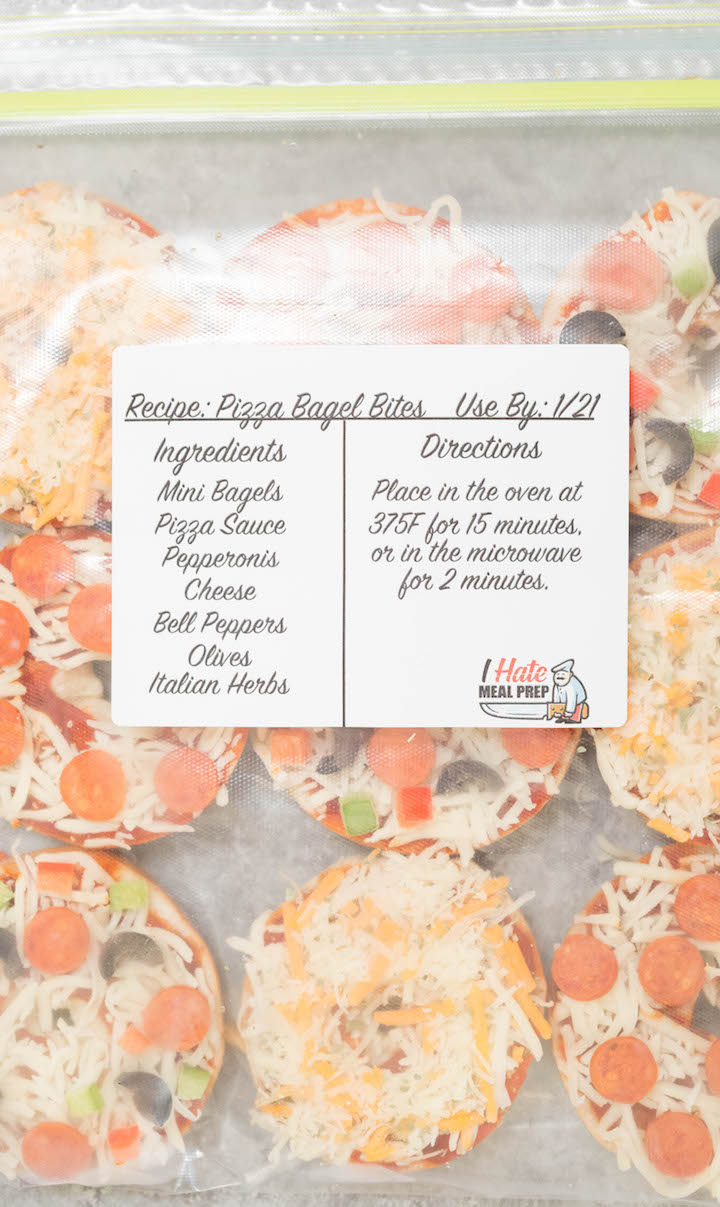 How To Reheat Homemade Bagel Bites
I find that the best way to reheat these bagel bites is in the oven or toaster oven, which takes 10-15 minutes. If you don't have access to one of those or are short on time, you can cook them in the microwave for 1-2 minutes.
Other Freezer Meal Prep Recipes
Print
Homemade Bagel Bites Recipe (Freezer Meal Prep)
Author:
Prep Time:

15 minutes

Cook Time:

10 minutes

Total Time:

25 minutes
Ingredients
10 Mini Bagels, sliced in half
1 1/4 Cups Pizza Sauce
2 Cups Mozzarella Cheese
Pepperoni Homemade Bagel Bites Ingredients
1/8 Cup Mini Pepperonis (or regular size cut into 1/4s)
Supreme Homemade Bagel Bites Ingredients
1/8 Cup Mini Pepperonis (or regular size cut into 1/4s)
1 Tbsp Green Bell Pepper, chopped fine
1 Tbsp Red Bell Pepper, chopped fine
1 Tbsp Sliced Olives, sliced in half
3-Cheese Homemade Bagel Bites Ingredients
1/4 Cup Cheddar Cheese, shredded
1/4 Cup Parmesan Cheese, shredded
1 Tablespoon Dried Italian Herbs
Instructions
Place mini bagel halves inside side up on the baking sheet.
Apply & spread about 1 tablespoon of sauce on each bagel. Distribute the cheese evenly among each bagel, then apply the toppings accordingly.
Place baking sheet in the freezer for 1-2 hours, then remove bagel bites and place in ziploc bags or other airtight containers. Store in the freezer for up to 3 months.
When ready to reheat remove from the freezer and place in an oven or toaster oven at 375F for 10-15 minutes. You can also reheat in the microwave for 1-2 minutes.
55