This easy freezer to crock pot chicken teriyaki is a winner for weeknight dinner!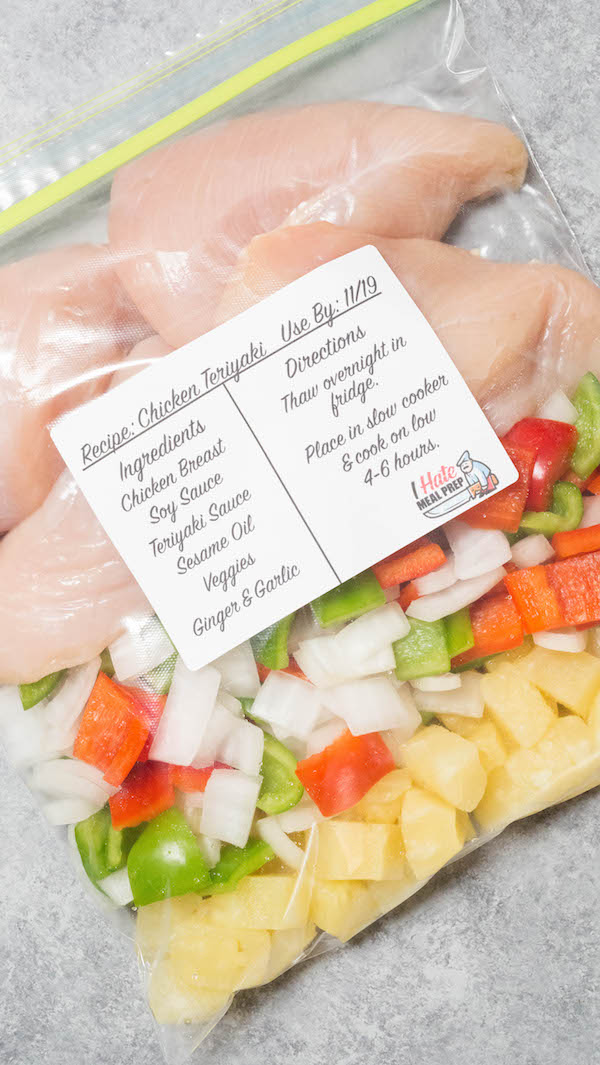 It is one of our top 5 favorite freezer meals and has helped save us a ton of money on takeout!
Freezer Chicken Teriyaki Ingredients:
Chicken Breast
Soy Sauce
Teriyaki Sauce
Sesame Oil
Brown Sugar
Pineapples & Juice
Veggies
Onion
Garlic
Ginger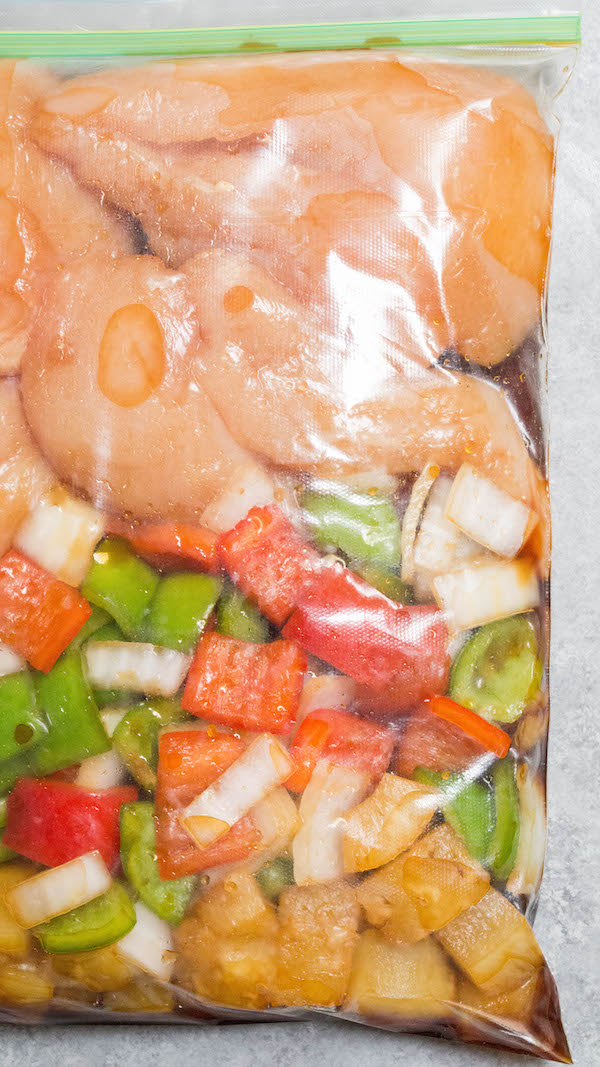 The chicken breast, soy sauce and teriyaki sauce are the cornerstones of this recipe. I think it tastes best as written, but there is room for customization or omission among the other ingredients depending on your tastes and dietary needs.
For the vegetables, I like to use chopped red and green bell peppers. You may like to use something else depending on what you have on hand or is on sale. Other common vegetables that go well in chicken teriyaki include carrots, broccoli, and snow peas.
How to Make Freezer to Crock Pot Chicken Teriyaki:
Simply place all of the ingredients into a Ziploc bag or other sealable container. Store in the freezer. Thaw in the refrigerator the night before cooking. Dump all the ingredients in a crock pot and cook on low for 4-6 hours until the chicken is 165°F internally and vegetables are soft.
We like to serve this dish with cauliflower rice, or white rice.
Other Freezer Meals:
More Easy Meal Prep Recipes:
Print
Freezer Crockpot Chicken Teriyaki Recipe
Author:
Prep Time:

15 minutes

Cook Time:

4 Hours

Total Time:

4 hours 15 minutes

Yield:

4
Ingredients
1 Green Bell Pepper
1 Red Bell Pepper
1 White Onion
1 Tablespoon Ginger, peeled and sliced
3 Cloves of Garlic
20 oz Can Pineapple Chunks, 1/4 Cup Liquid Reserved
4 Chicken Breasts
1/4 Cup Soy Sauce
1/2 Cup Teriyaki Sauce
1 Tablespoon Sesame Oil
2 Tablespoons Brown Sugar
Instructions
Coarsely chop bell peppers and onion. Slice ginger and mince garlic.
Drain the can of pineapple chunks, but reserve 1/4 cup of the liquid. Place the pineapple chunks in the bottom of a Ziploc bag or other freezer safe, sealable container.
Add the ginger, garlic, bell peppers, and onion to the bag on top of the pineapple chunks. Now add the chicken breasts.
In a medium bowl, add the soy sauce, teriyaki sauce, sesame oil, brown sugar, and reserved pineapple liquid. Stir together until well combined and the sugar has dissolved.
Pour over the ingredients in the Ziploc bag. Seal and place in the freezer.
Thaw in the refrigerator the night before consuming. After thawed, place in the crock pot on low for 4-6 hours until chicken is 165°F internally and vegetables are soft.
Serve with cauliflower rice or white rice.
85