Chia seed pudding is one meal prep recipe that I make every single week. It makes for a delicious and nutritious breakfast, snack, or even dessert.
It can be made in many flavors, but often I find myself craving the basic version with a drizzle of honey and fresh berries. I love how simple it is to make and I almost always have all the ingredients on hand.
Chia Pudding Ingredients:
Milk – You can use any kind of "milk" you prefer. I usually use almond or oat milk.
Chia Seeds – This one seems pretty obvious. We buy our chia seeds in bulk to save money.
Sweetener – Adding sweetener to your chia pudding is optional, but highly recommended unless you are using a milk that is already sweetened. I like to use honey and drizzle it on right before I eat it. If you're using something like stevia, you may prefer to mix it in before refrigerating your chia seeds.
This post contains affiliate links (when you buy we make a little $ at no cost to you). See our disclosure for more information.
Health Benefits of Chia Seeds:
Chia seeds are beloved by the health food community because they are very low in calories in comparison to the high amounts of nutritional benefits they offer.
Just two tablespoons of chia seeds contain 11 grams of fiber, 4 grams of protein, 5 grams of Omega-3s, and 30% of your recommended daily amount of magnesium and phosphorus.
If that wasn't enough to convince you to give these little guys a try, they also contain significant amounts of zinc, potassium, iron, and antioxidants, as well as vitamins B1, B2, and B3.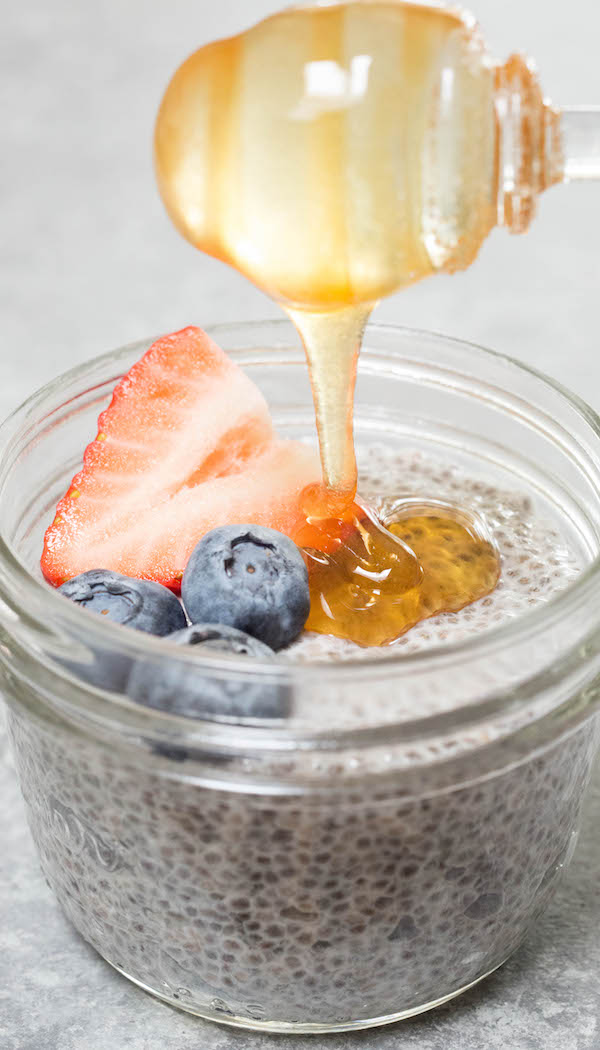 Other Chia Pudding Recipes:
More Breakfast Meal Prep Ideas:
How To Make Chia Pudding
Print
Chia Seed Pudding Recipe
Ingredients
1/2 Cup Chia Seeds
2 Cups Milk (Almond, Coconut, Oat, Cow, etc)
Honey or other Sweetener
Fresh Fruit (optional)
Instructions
Add chia seeds and milk to a large bowl. Stir to combine. Let sit 5 minutes then stir it again with a fork. This will help break up any clumps.
Place in the refrigerator and let it set for at least 3 hours. Then, you can portion into individual containers (I use these mason jars), add the fresh chopped fruit or other desired toppings, and seal. Keep chilled until serving.
27