Italian Pinwheels are a healthier version of the classic sandwich. This meal prep box pairs the pinwheels with mixed fruit as well as carrot and raisin salad for a guilt-free lunch.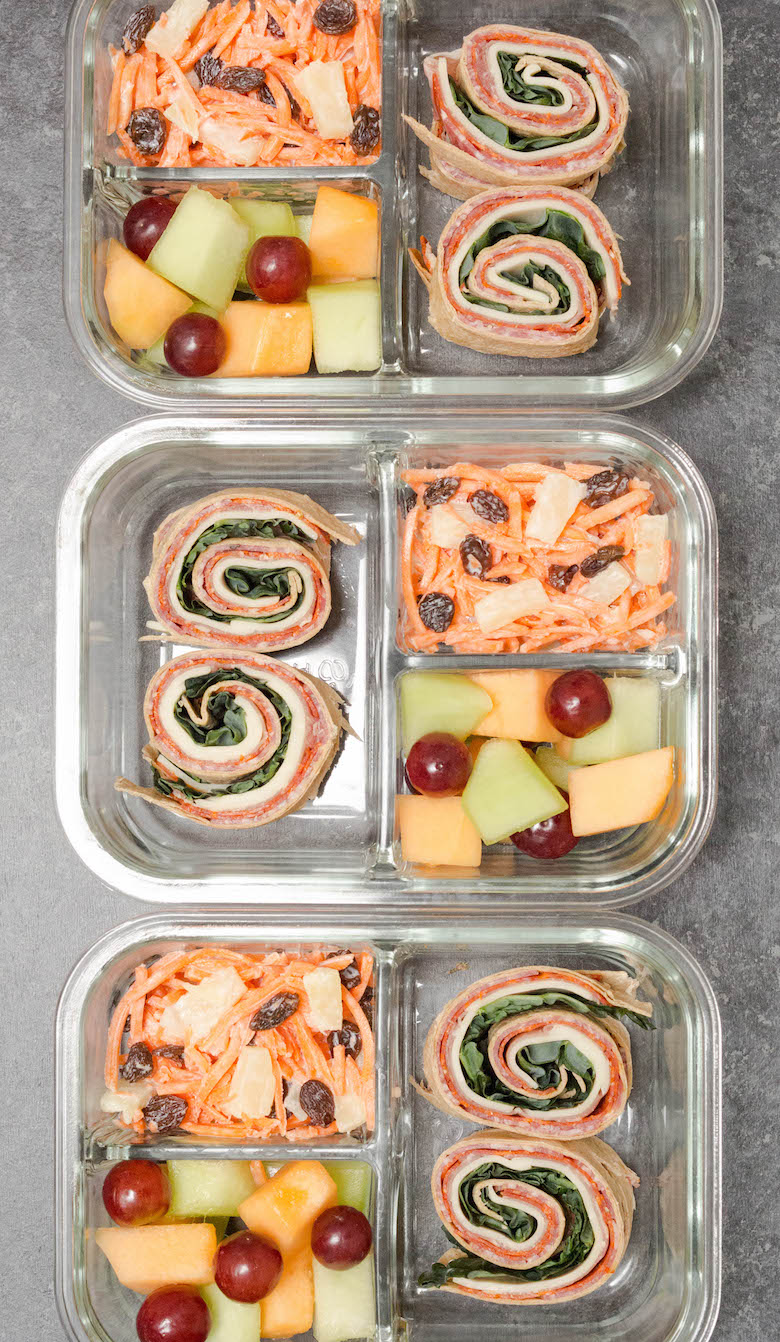 Classic Italian sandwiches are one of my favorite lunches. These Italian Pinwheels are my way of "lightening up" that classic sandwich up so I can still get all the flavor without going over my calorie limit.
I wanted to include some healthy deli-type sides, so I opted for mixed fruit and a carrot and raisin salad. Other good side dishes would be cottage cheese, apple slices, or chickpea salad.
Other Lunch Meal Prep Ideas
Print
Italian Pinwheels Meal Prep Box Recipe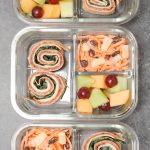 Author:
Prep Time:

30 minutes

Cook Time:

0 minutes

Total Time:

30 minutes
Ingredients
Italian Pinwheels
3 Whole Wheat Tortillas
6 oz Pepperoni
6 oz Prosciutto
6 oz Salami
6 oz Provolone Cheese
1 Bunch of Lacinto Kale, stems removed
Carrot & Raisin Salad
10oz Matchstick Carrots
3 Tablespoons Mayo
8oz Canned Crushed Pineapple
1/4 Cup Raisins
Mixed Fruit
1/3 Cup Cantaloupe, cut into bite-sized chunks
1/3 Cup Honeydew, cut into bite-sized chunks
1/4 Cup Red Grapes
Instructions
Italian Pinwheels
Lay tortillas flat on a large cutting board. Evenly distribute and layer the meats, cheese, and kale on each tortilla.
Tightly roll each tortilla, then wrap tightly with saran wrap. Place in the refrigerator for 15 – 20 minutes (you can skip ahead to making the sides at this time).
Remove rolls from refrigerator and slice into 2″ pinwheels. Distribute pinwheels evenly among 4 meal prep containers.
Once pinwheels and side dishes are in your container, add the lid and seal shut. Place in the refrigerator until ready to consume.
Carrot & Raisin Salad
Add carrots, canned pineapple, mayo, and raisins to a mixing bowl. Stir well to combine. Evenly distribute among meal prep containers.
Mixed Fruit
Evenly distribute among your meal prep containers.
9