This Copycat Starbucks PB & J Box recipe takes a classic lunch sandwich and turns it into an easy lunch meal prep. Put together a whole week's lunches in just minutes!
Starbucks has evolved into much more than just a place to grab a coffee or other beverage. These days it's a full-fledged cafe with many foods for sale.
One of their most popular items is their bistro & protein boxes. These are basically adult Lunchables. They are usually designed with health in mind and are a great way to grab a balanced meal on the go.
Sometimes it's best to keep it basic, and the PB & J Protein Box is proof. It's a great way to reminisce about your favorite grade school lunch!
What does Starbucks PB & J box include?
1/2 Peanut Butter & Strawberry Jelly Sandwich
Cheese stick
Apple Slices
Baby Carrots
Cucumber Slices
Greek Yogurt Ranch
Chocolate Covered Raisins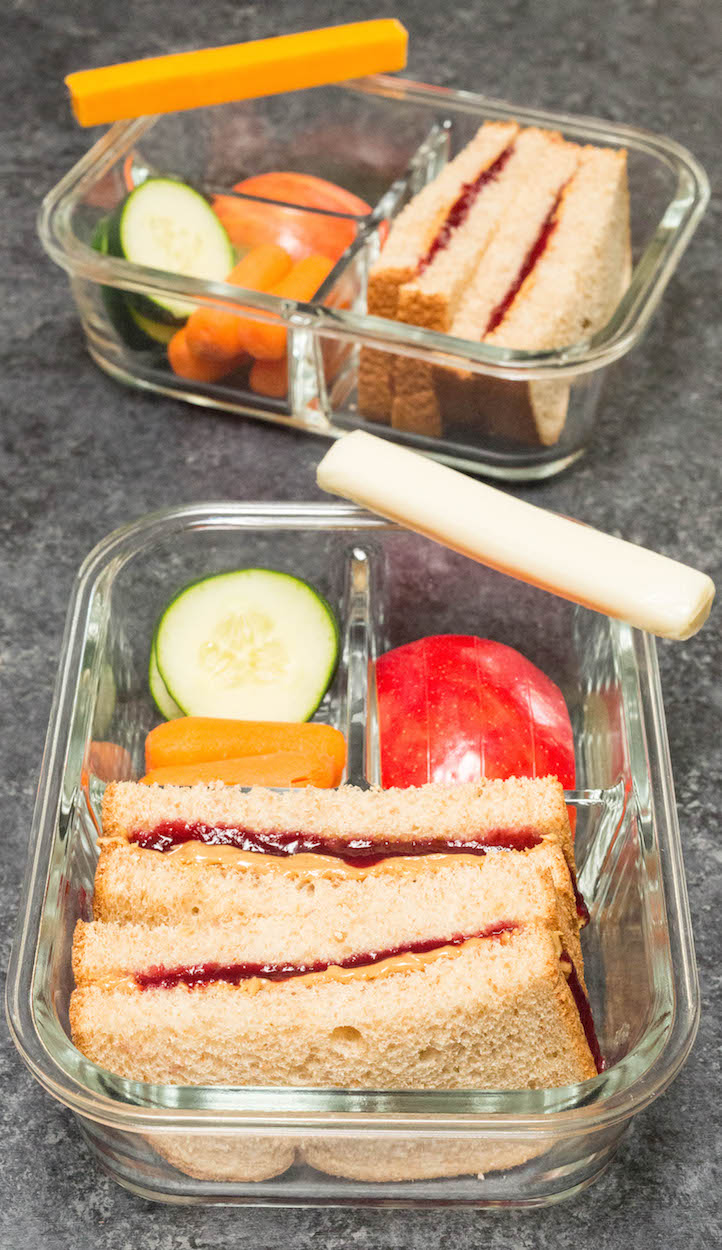 Starbucks PB & J Box Price
The PB&J Starbuck's Box will generally cost $5.95, though there can be some regional differences in pricing. My homemade version of the peanut butter & jelly bistro box cost me about $1.80 per serving.
Starbucks PB & J Box Calories
Starbuck's Peanut Butter & Jelly Box has 520 calories. The homemade version I made here has 618 calories. If you want to cut down the calories, I would recommend including only half of a PB & J (like Starbucks) and cutting out the chocolate covered raisins.

More Lunch Meal Prep Ideas:
Print
Starbucks PB & J Box Recipe
This copycat Starbucks PB & J Box recipe contains a classic peanut butter and jelly sandwich, veggies, apple slices, a cheese stick, and chocolate covered raisins.
Author:
Prep Time:

10 minutes

Cook Time:

0 mins

Total Time:

10 minutes

Yield:

4

Category:

Main Dish

Cuisine:

American
Ingredients
8 Slices of Wheat Bread
1/3 Cup Peanut Butter
1/3 Cup Strawberry Jelly
1 Cucumber
1.5 Cups Baby Carrots
2 Apples
Chocolate Covered Raisins
Greek Yogurt Ranch
Instructions
Take one slice of wheat bread and spread a generous amount of peanut butter. Take your other slice of bread and add the jelly, then put the two pieces together to make the sandwich. Slice in half and place inside your meal prep container.
Slice a cucumber into 1/2″ thick slices. Place in your meal prep container along with baby carrots. If you'd like to include Greek yogurt ranch like Starbucks, you can put it in the bottom of the section and place the veggies on top, or put it in a separate container with a lid.
Add half a sliced apple, your favorite cheese stick, and a handful of chocolate covered raisins to each meal prep container.
Cover and store in the refrigerator until you're ready to consume.
8