Are you in college and trying to meal prep? Awesome! Meal prepping is a great way to save time and money while you're in school.
College students need meal prep recipes that aren't time consuming, won't break the bank, and don't require too many special or expensive tools.
To help you busy kids "cut the shit" as I like to say, I've compiled this list of easy meal prep recipes that are perfect for college students.
All of these recipes are simple, use easily accessible ingredients, and can be made in a small kitchen or dorm room. There's lots of no-cook meal prep ideas as well as recipes you can make using a hot plate or slow cooker.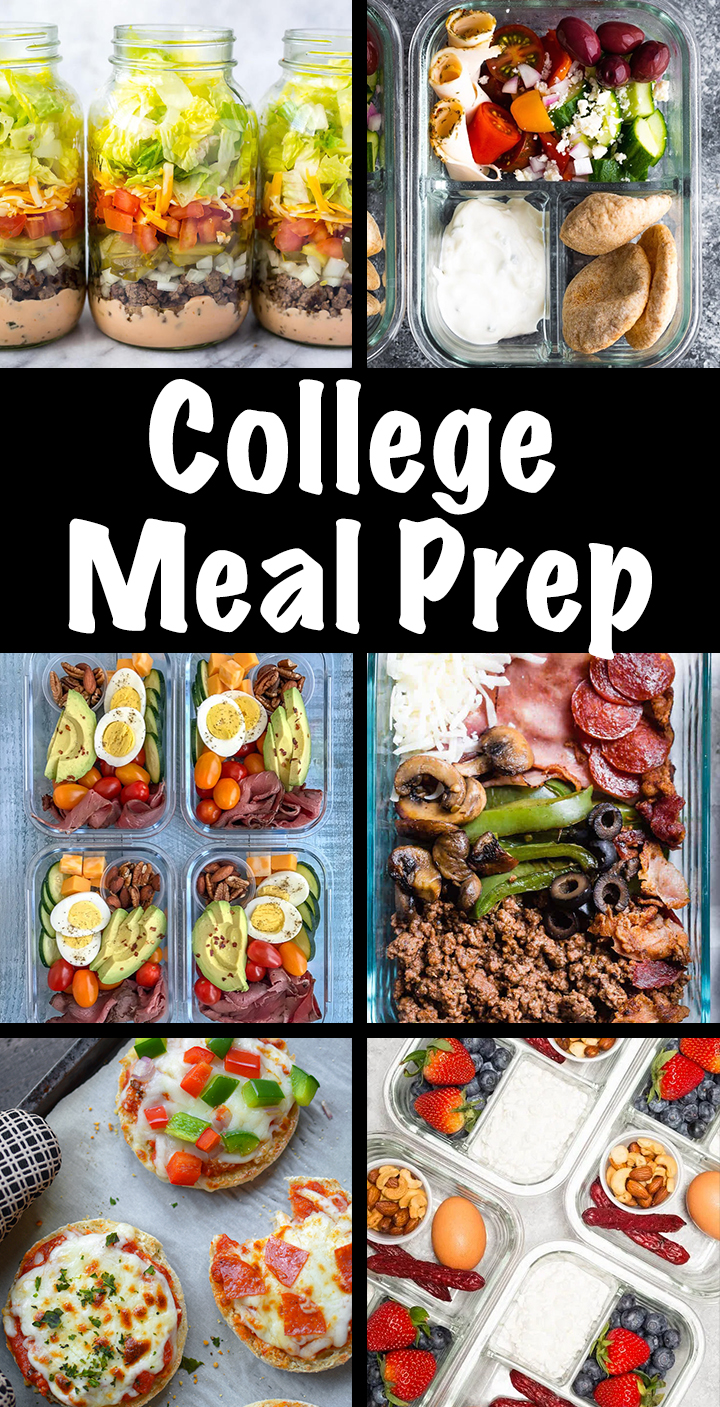 Meal Prep Recipes For College Students
1. Easiest Burrito Bowl Meal Prep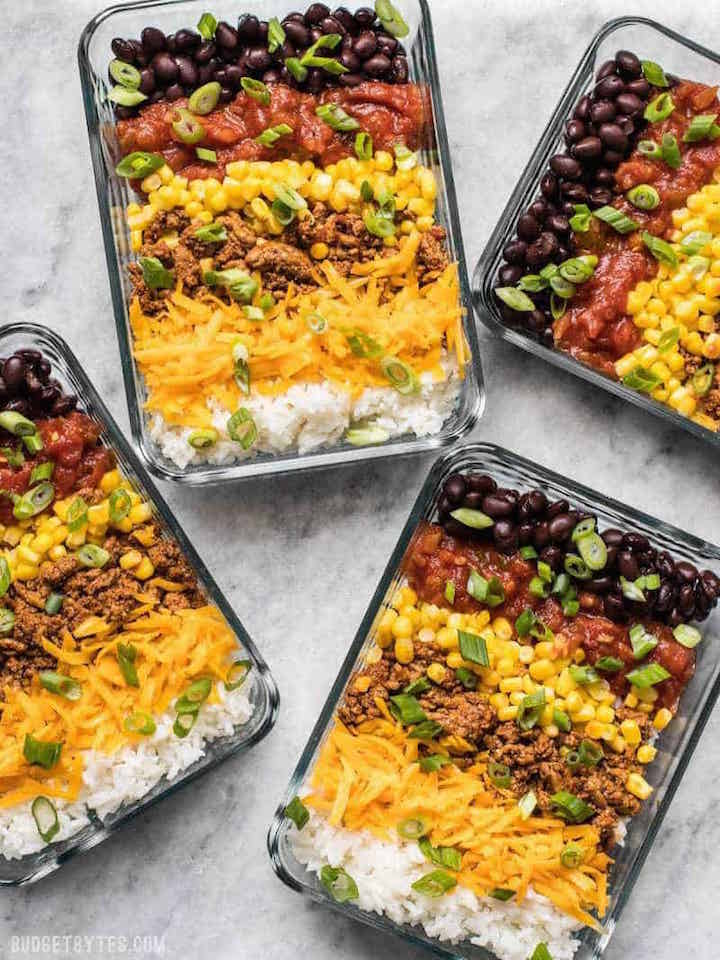 Budget Bytes is the queen of meal prep and she truly has the easiest burrito bowl recipe. The best part? It costs just $2.26 per serving. Pro tip: swap out the white rice for cauliflower rice so you can save those carbs for beer!
2. Low Carb Big Mac Salad Jars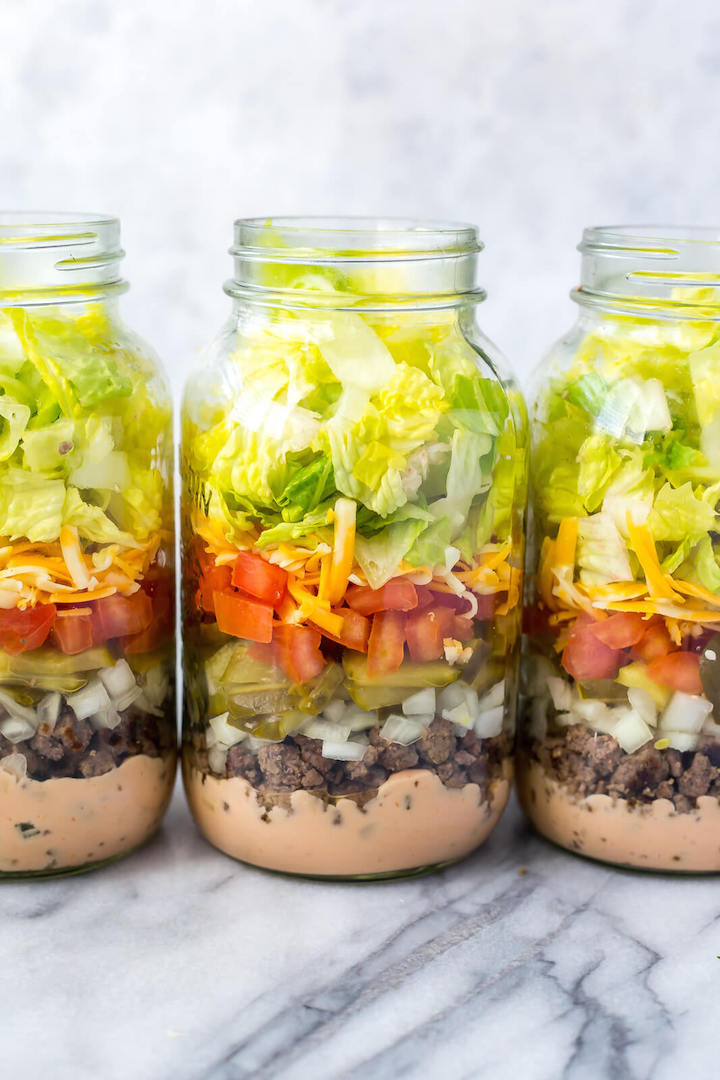 College is probably the hardest time in life to avoid eating fast food, maybe making these Big Mac Salad Jars will help? All the delicious taste of a Big Mac without the carbs! It'll be ready to go in your fridge, perfect for busy weeknights or 3 AM munchies.
3. Meal Prep Protein Breakfast Box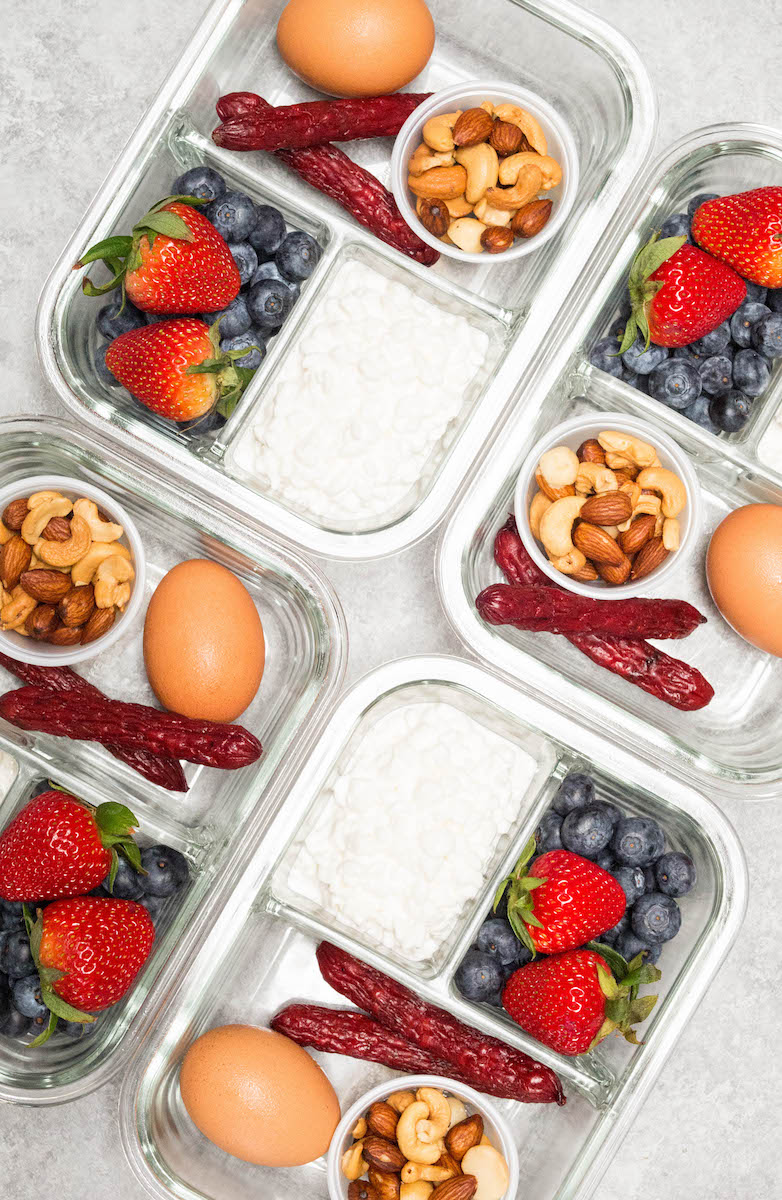 You always hear that "breakfast is the most important meal of the day", but it's so easy to skip. A protein heavy breakfast is a solid foundation for a day of learning, so I recommend keeping these in the fridge. You can meal prep a week's worth in about 15 minutes.
4. Low Carb Pizza Meal Prep Bowls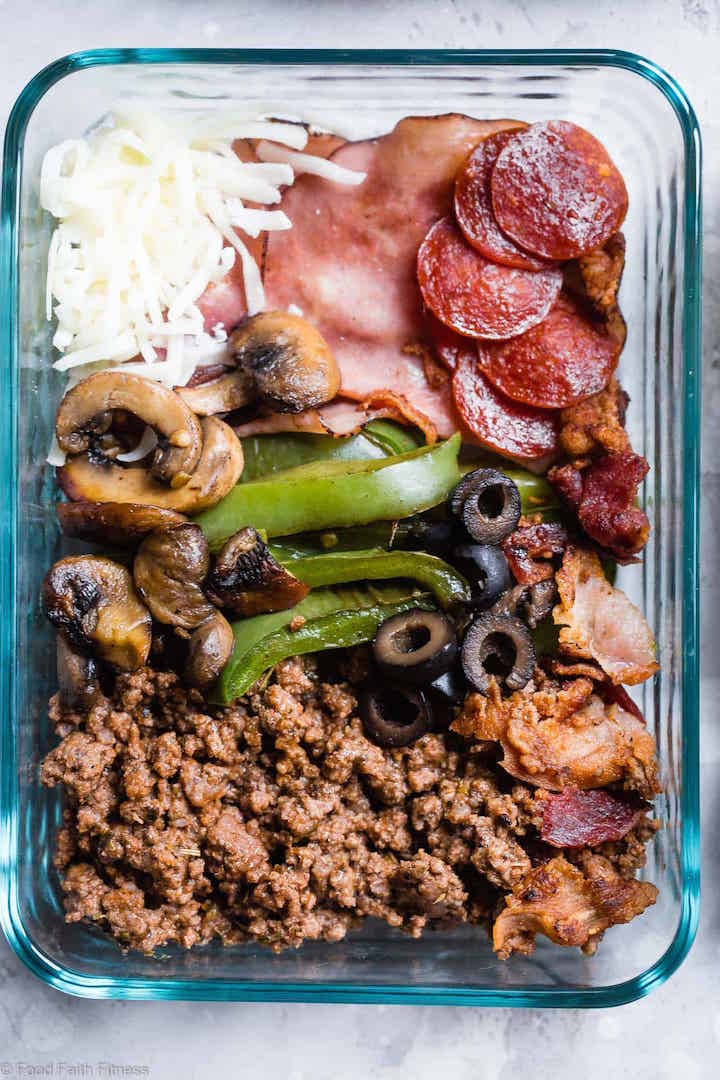 Nothing will help you put on the "Freshman 15" faster than pizza. Make this pizza bowl meal prep some of the time to get all of the flavor without the carbs. There's even a cashew cheese sauce alternative if you're eating dairy free.
5. Sheet Pan Thai Peanut Chicken Meal Prep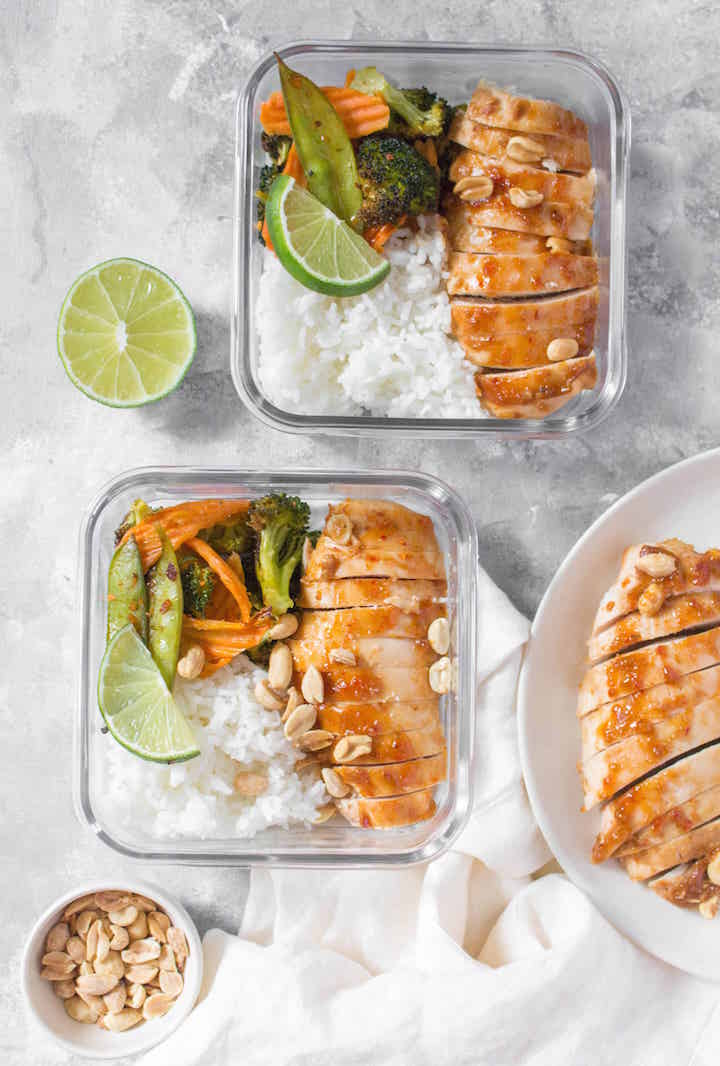 Sheet pan recipes are essential to an efficient "Meal Prep Sunday" and this Thai Peanut Chicken is one of the tastiest. Eat it once when you cook it, then throw the leftovers in containers to prep for the week.
6. Southwest Quinoa Salad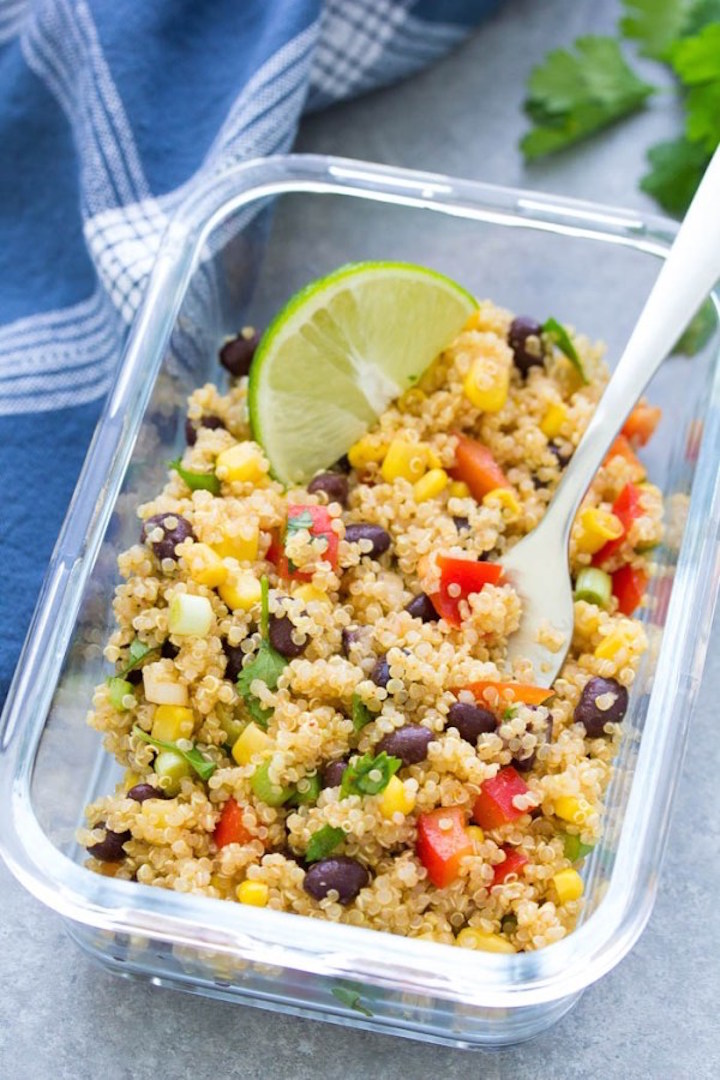 Quinoa salad is great to have in the fridge for a ready-to-go side, or you can add sliced chicken breast to make it a main dish. The zesty-lime vinaigrette really makes this recipe "pop" with flavor!
7. Frozen Yogurt Bark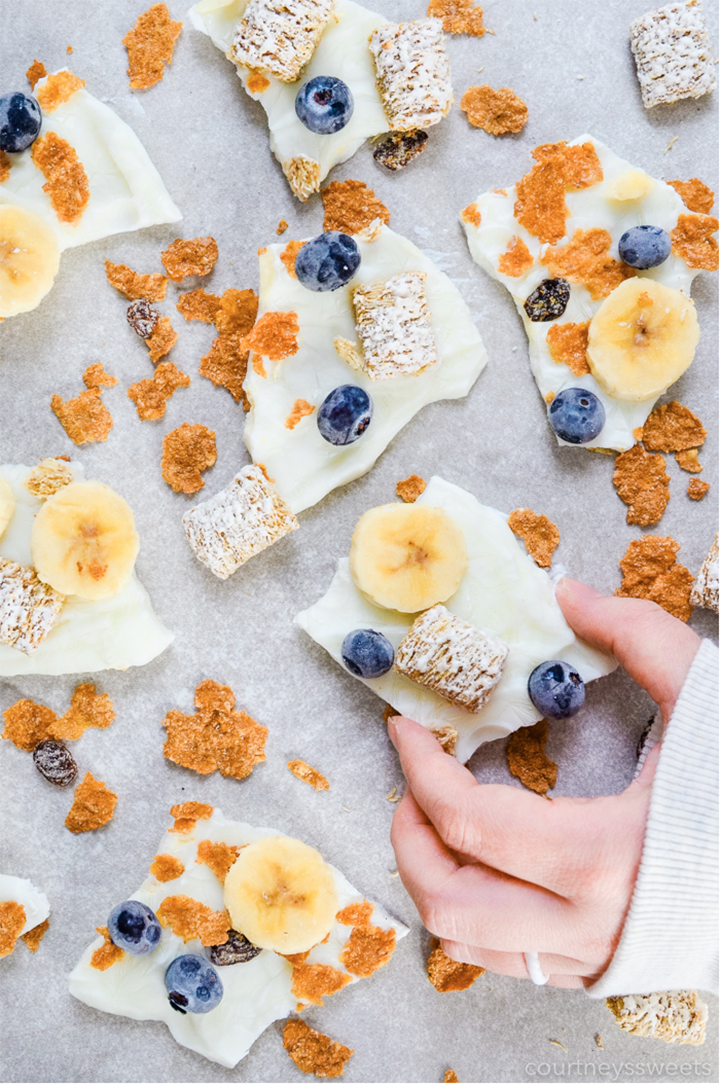 This is one of the most "fun" make ahead breakfast recipes I've found. It's easily adaptable so you can use your favorite kinds of cereals and fruits. Switch it up every so often so you never get tired of it!
8. Chicken Sausage Pasta Meal Prep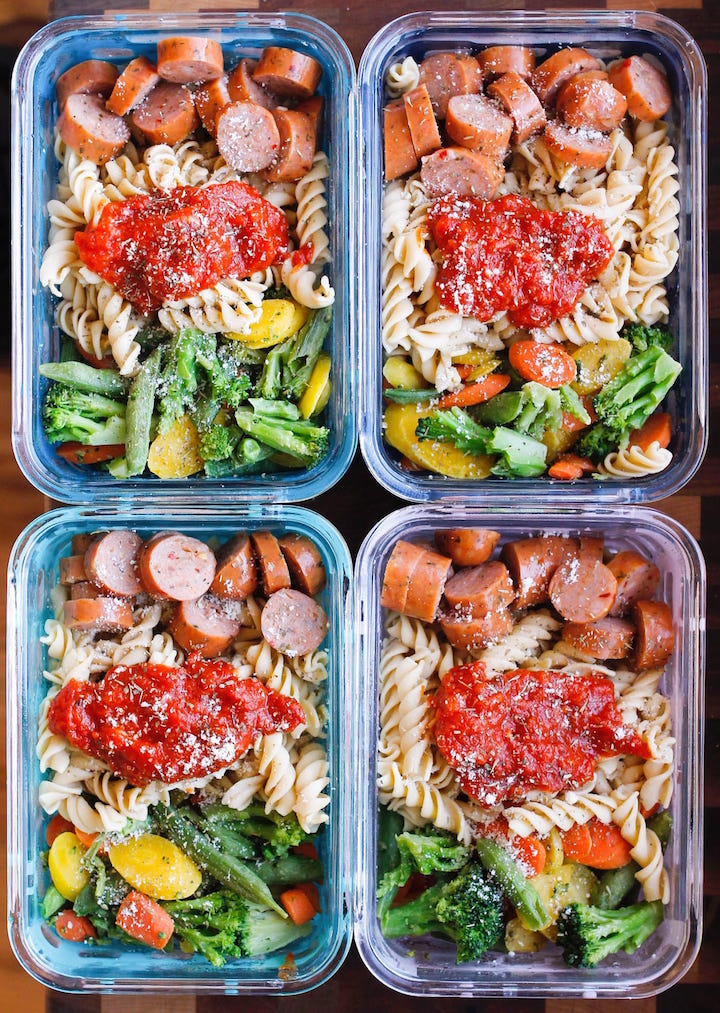 Gluten-free pasta and chicken sausage help keep this meal prep healthy and easy on the wallet. Because the ingredients are really simple, this is a great meal prep choice when you are in a hurry!
9. Deli Style Protein Box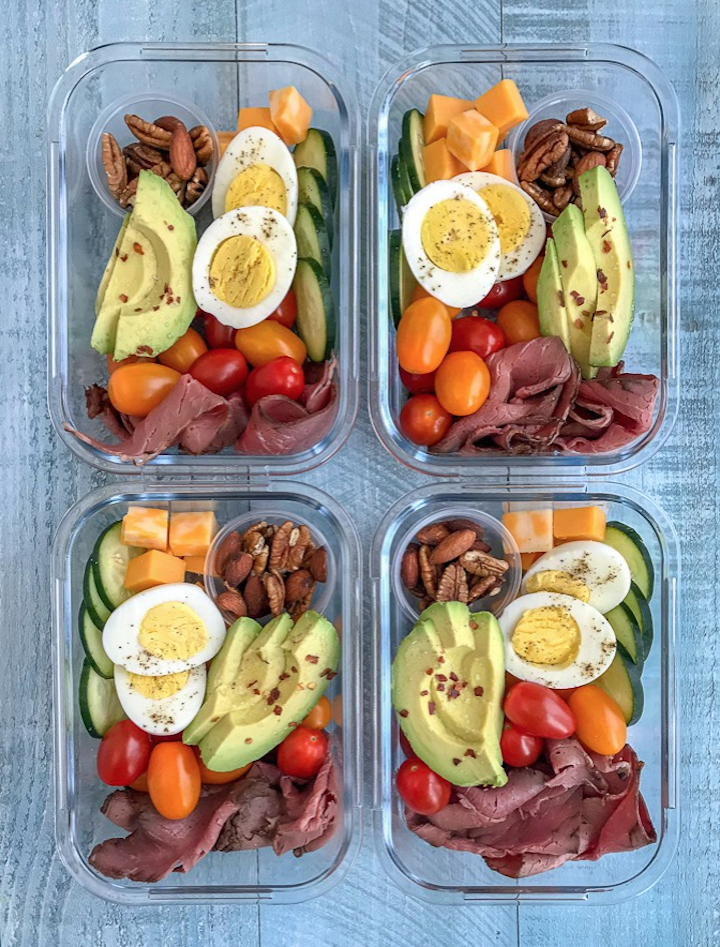 This is the ultimate "lazy meal prep" recipe. There's no cooking involved and you can put together a whole week of these in less than 15 minutes! It's basically a healthy, low-carb Lunchable.
10. No Bake Monster Granola Bars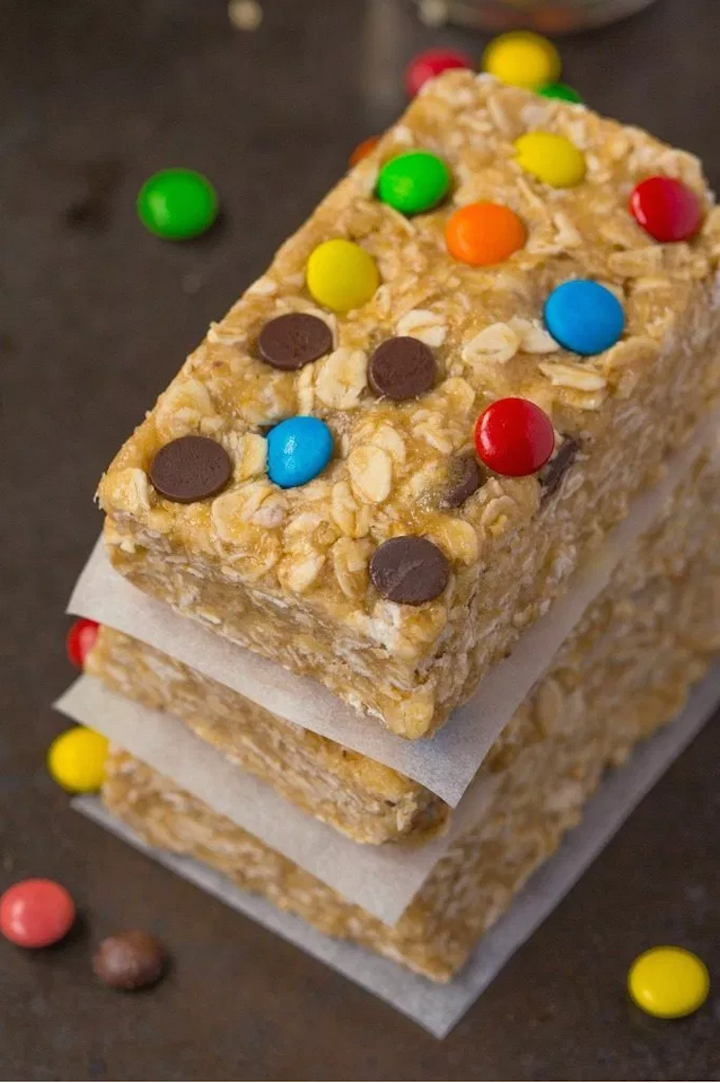 Don't waste money on inferior store-bought granola bars, make your own! This "monster cookie" version will satisfy any sweet tooth without leaving you feeling too guilty.
11. Italian Couscous Meal Prep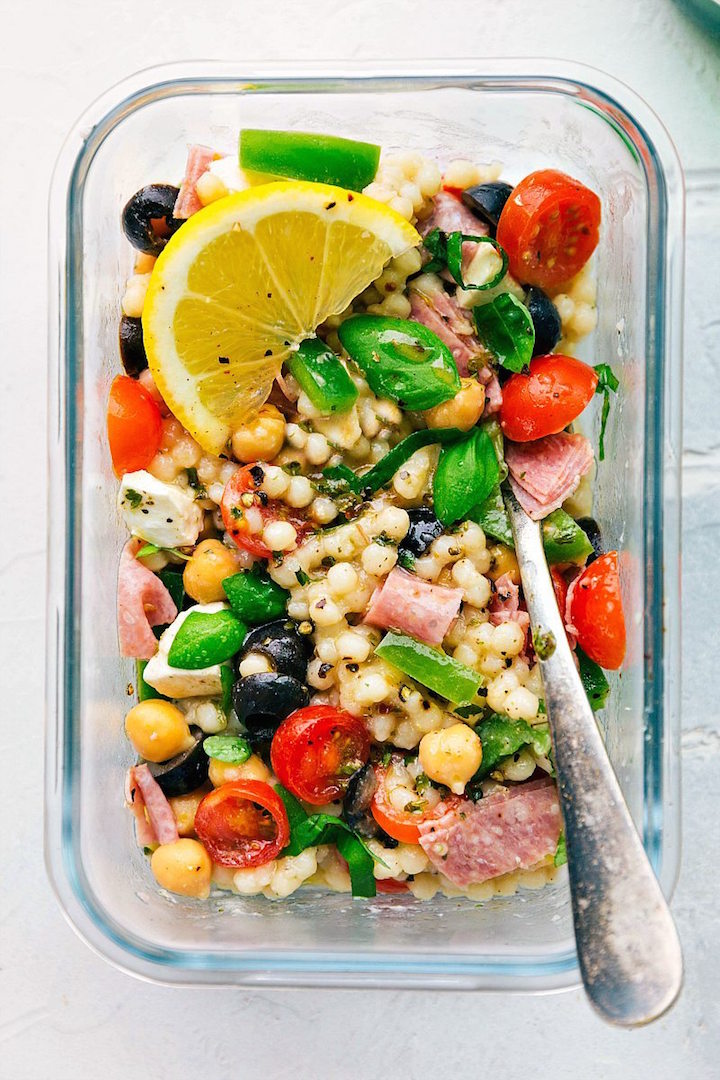 Have you ever seen meal prep look so fresh? This Italian Couscous is overflowing with flavor and the chickpeas and salami pack it with protein. The best part? It's a no-cook recipe.
12. Banana Berry Smoothie Meal Prep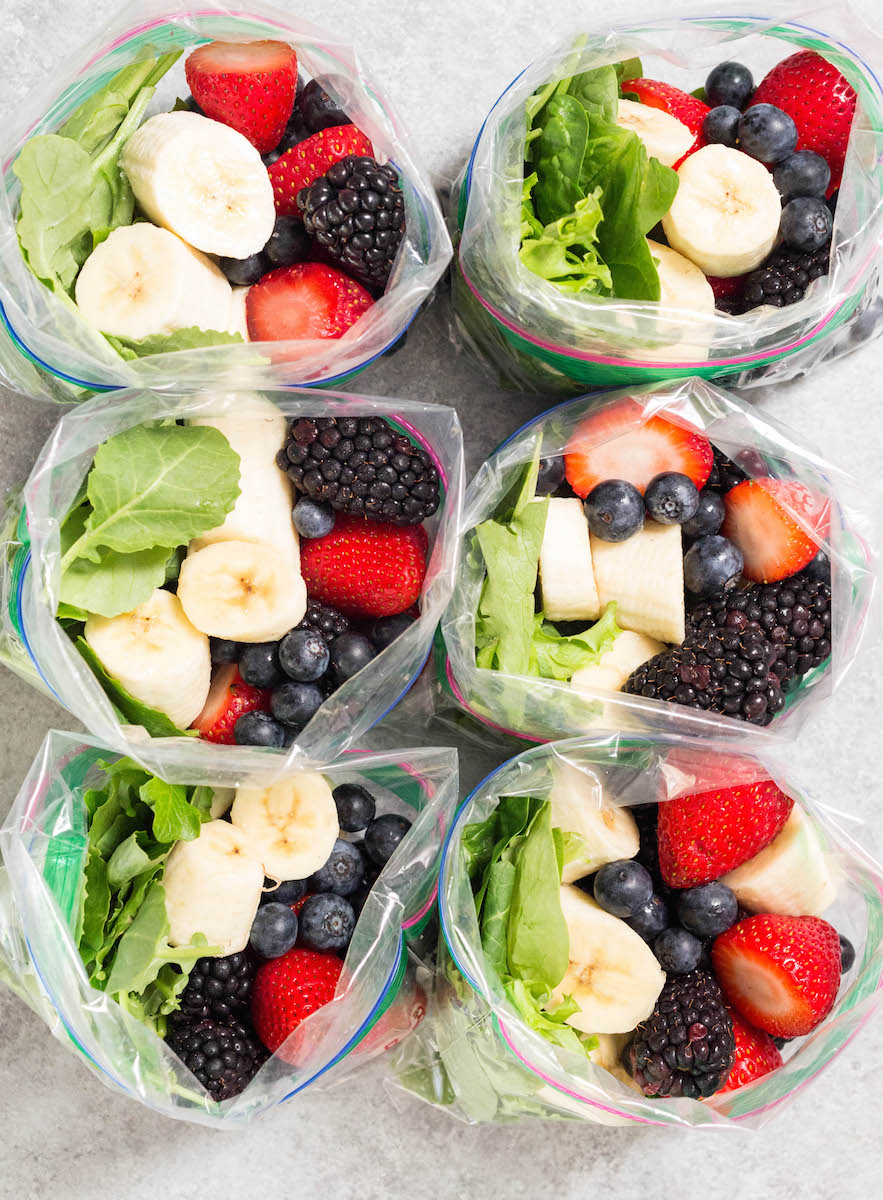 If you're into freezer meals or no-cook recipes, you've got to start smoothie prepping! A week's worth of healthy breakfasts can be made in minutes for just a few dollars per serving. Feel free to use whatever produce you find on sale to save even more.
13. Sesame Noodle Bowls Meal Prep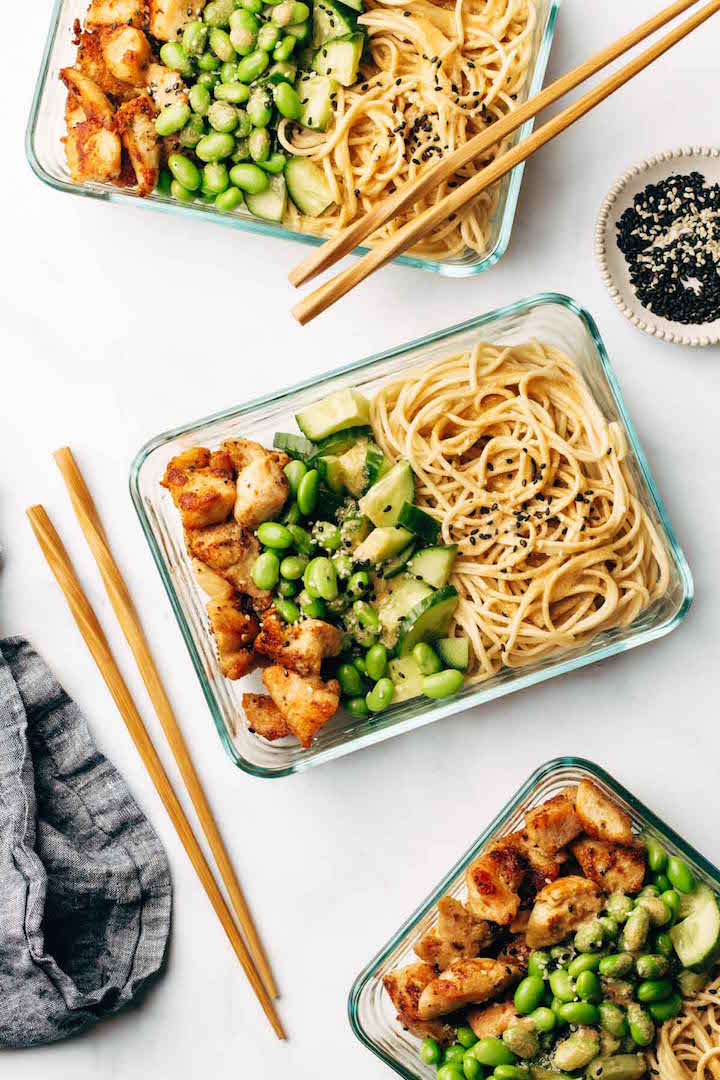 Are you even in college if you aren't getting 80% of your calories from noodles? This meal prep balances out the noods with protein and veggies so that you can feel healthy!
14. Quinoa Caprese Mason Jar Salad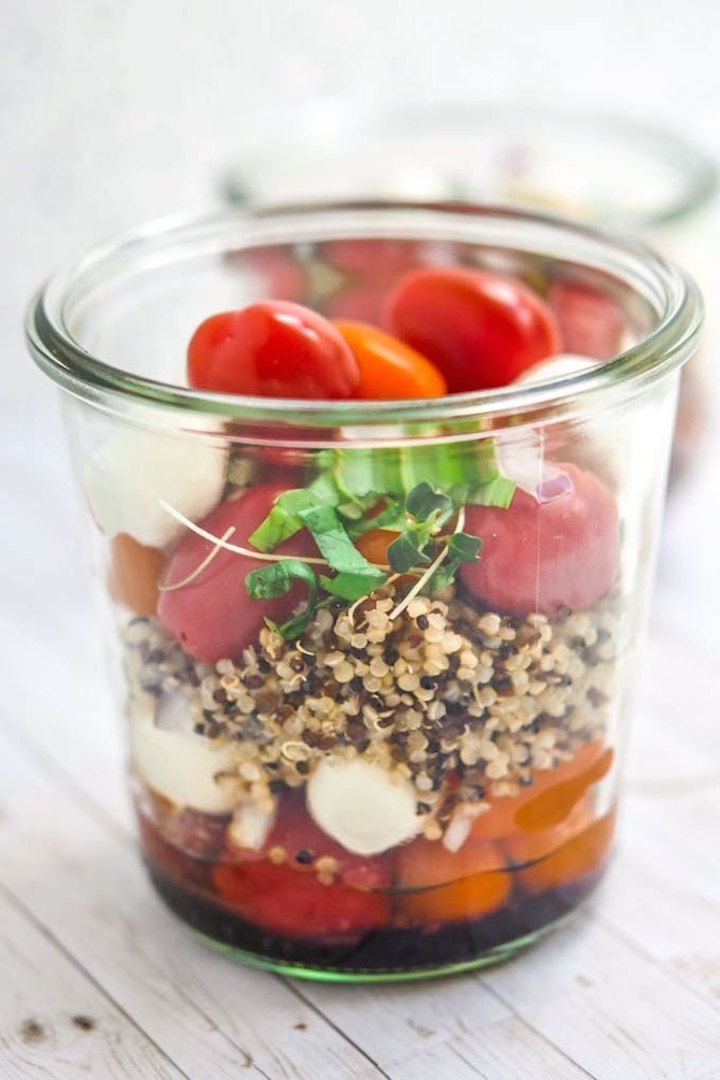 It's so easy to snack while studying and quite often this means getting lost in a bag of potato chips. I recommend you keep these Quinoa Caprese Mason Jars in your fridge so they're ready to grab at a moment's notice. Real brain food!
15. Greek Bento Box
College is all about becoming an adult, right? Well this Greek Bento Box Meal Prep is kind of like an adult Lunchable that's fresh AF. It's so easy to make you can prep a week's worth in about 15 minutes.
16. Freezer Breakfast Sandwiches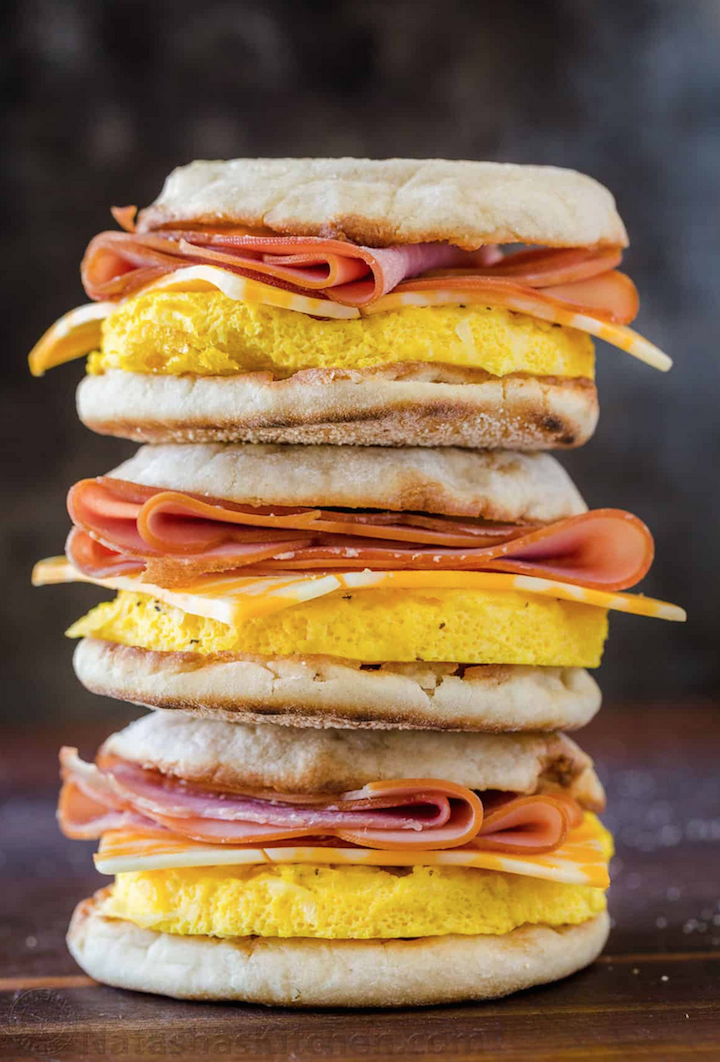 These make ahead breakfast sandwiches are perfect for busy mornings with early classes. You can put them in the freezer for long-term storage or keep in the refrigerator if planning to eat that week.
17. Weight Watcher's Turkey Chili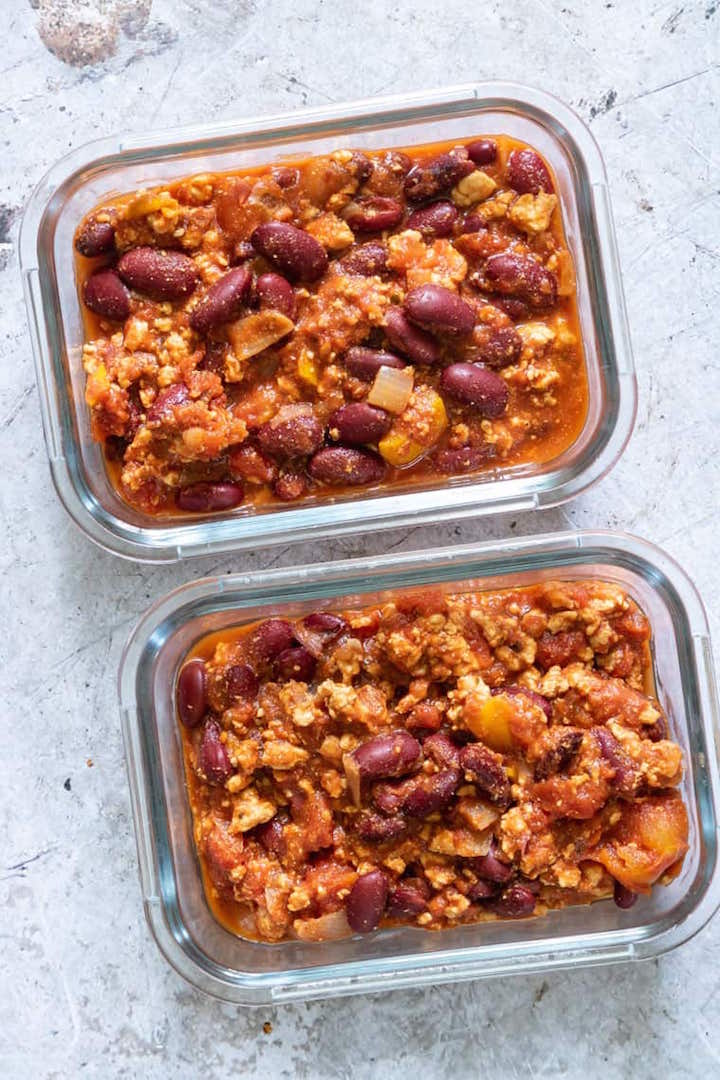 Chili is super easy to make in batches for meal prep. This Weight Watcher's friendly version uses Turkey Chili and is a zero point meal! It will definitely help balance out all the noodles and pizza. You can even keep it in the freezer up to 3 months.
18. Freezer English Muffin Pizzas
It's so easy to blow all your extra cash on delivery pizza. Keep these Freezer English Muffin Pizzas on hand instead. Perfect for a late night snack or quick lunch. Use wheat English muffins if you want to make them healthier.
19. PB & J Overnight Oats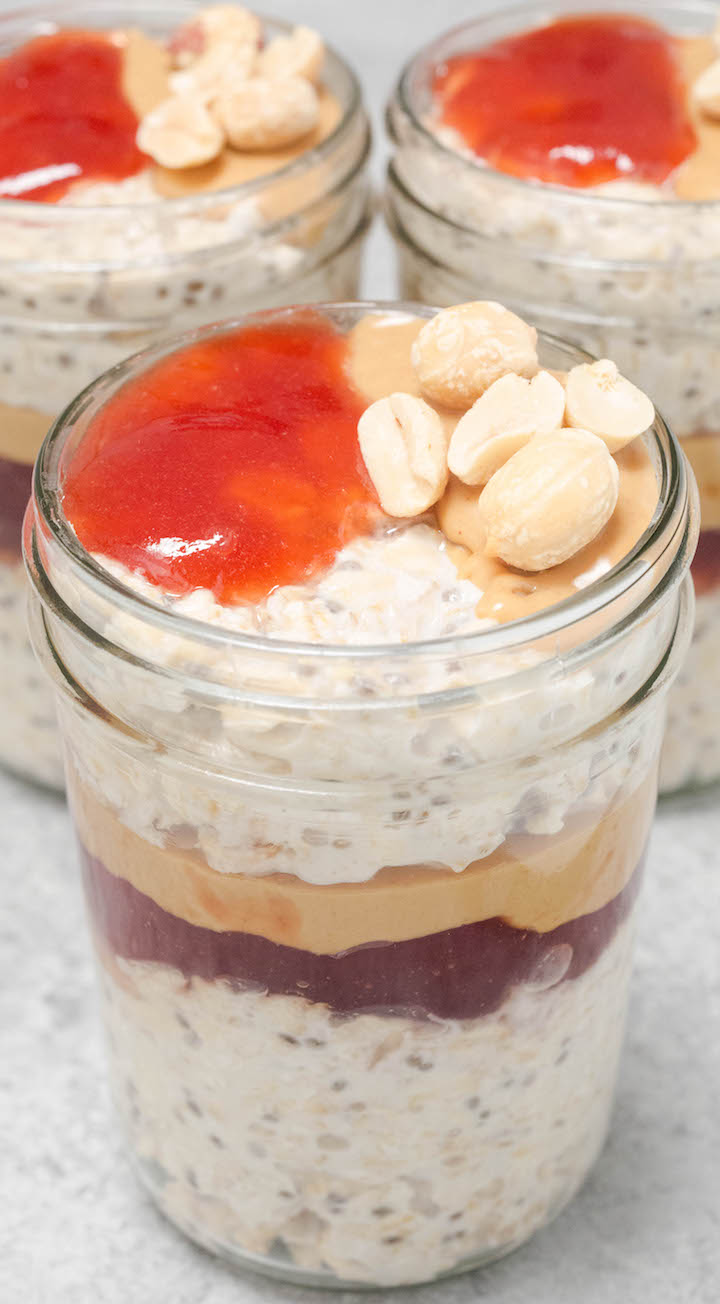 This is easily my favorite version of overnight oats. It's like a guiltless version of your favorite childhood sandwich! Perfect for breakfast, a snack while studying, or even a healthy dessert!
20. Cookie Dough Protein Bites
Protein bites that taste like cookie dough? Sign me up! These make for the perfect healthy dessert or snack and they can be made with just 6 ingredients that you probably already have.
165