Chicken breast marinated in homemade teriyaki sauce is paired with broccoli, peppers, and onions in this light and healthy meal prep. Perfect for lunch or dinner.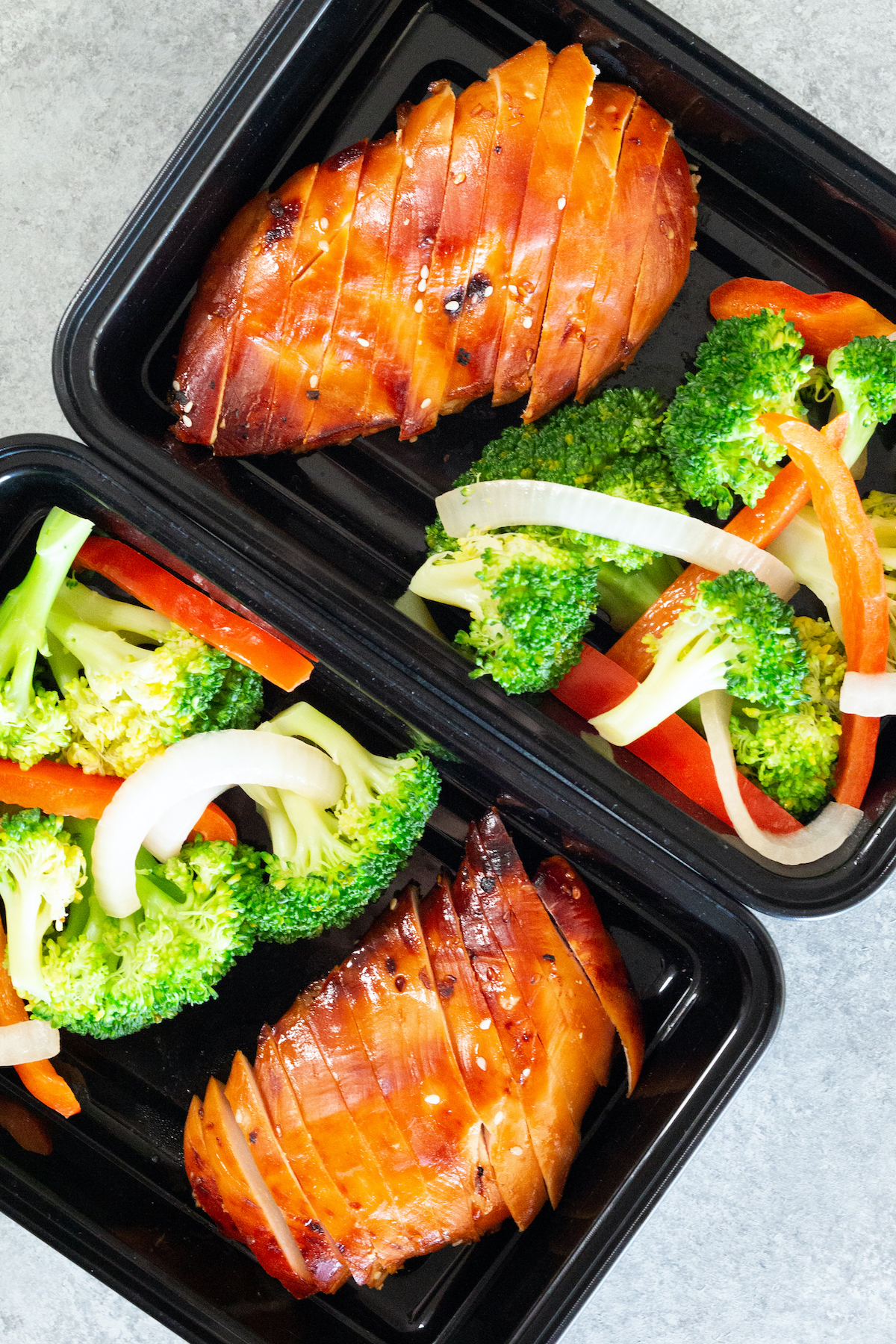 I get more requests for chicken meal prep recipes than anything else. This teriyaki version is one of my all time favorites! It features juicy, flavorful teriyaki chicken breast served with a side of veggies. It makes a great work lunch and having it on hand for dinner has saved me from ordering takeout a time or two.
I like the homemade teriyaki sauce so much that I've started making it on the regular and keeping it in a jar in our fridge. That way we can meal prep it very quickly on a whim. The sauce can also be kept in the freezer so that it will stay good for months.
If you're looking for freezer chicken recipes instead of a fresh prep, check out my freezer chicken teriyaki and freezer chicken fajitas. They can be frozen, then dumped into your crockpot to cook.
Ingredients
Chicken & Veggies
Chicken Breast – You can use any chicken breast you'd like. I generally choose fresh organic. If you use frozen, be sure to thaw it safely in the refrigerator before marinating.
Vegetables – I like to use a mixture of broccoli, bell pepper, and onion. You can substitute any veggies you'd prefer.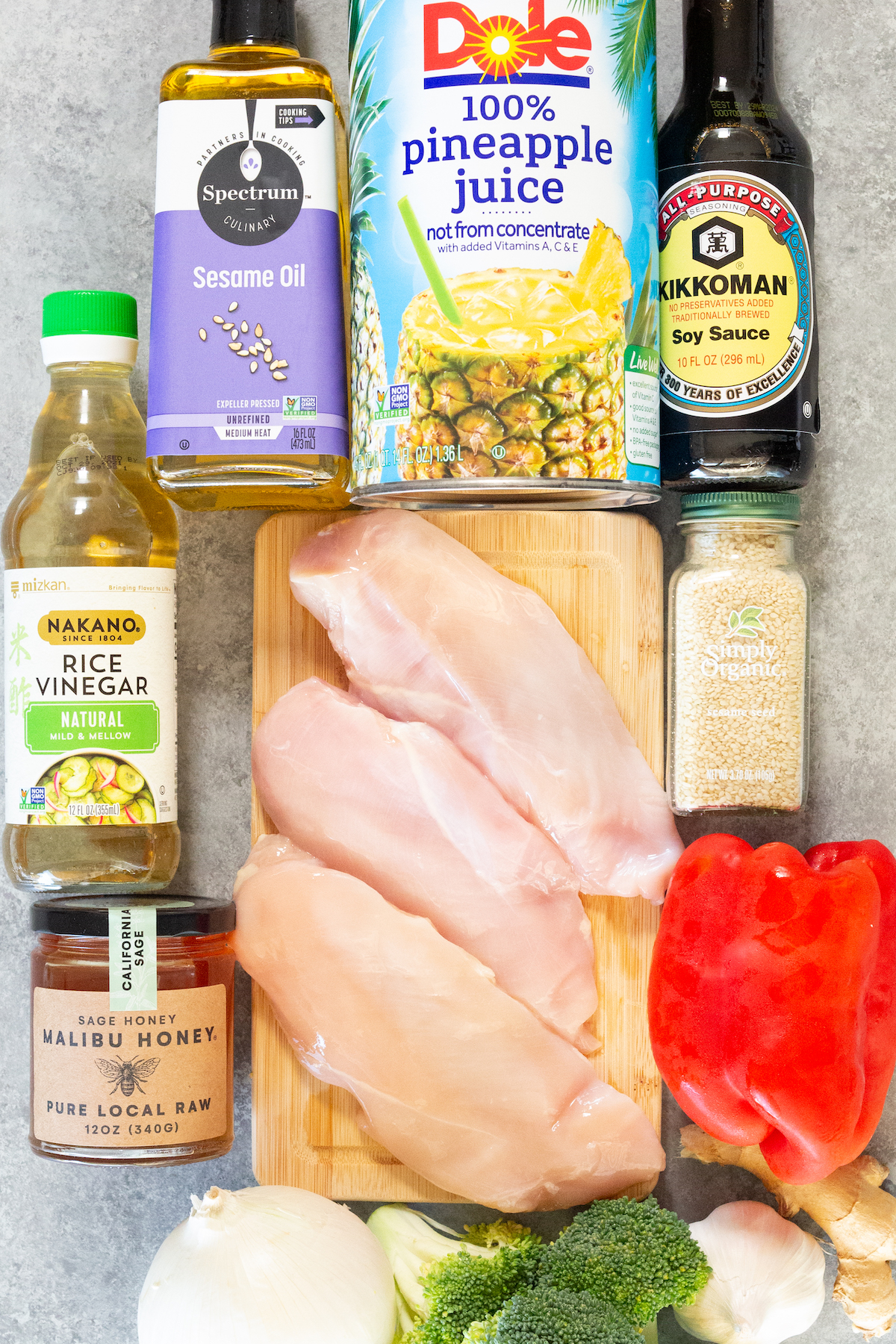 Teriyaki Marinade
Pineapple Juice – I use canned 100% pineapple juice for this recipe.
Soy Sauce -You can substitute coconut aminos or San-J Tamari if you want this recipe to be gluten free.
Rice Vinegar – Rice vinegar works best, but you can substitute apple cider vinegar if you have that on hand.
Sesame Oil – The slightly nutty flavor of sesame oil is perfect for this sauce, but canola or grapeseed oil are both good alternatives.
Honey – Any honey works, but I recommend using honey that is local to you, if possible.
Garlic – Fresh garlic has the best flavor. Use a garlic press to peel and mince it quickly.
Ginger – I like to use fresh ginger, but you can substitute 1/2 tsp of ginger powder.
Sesame Seeds – These are totally optional, but I like to add them at the end of cooking. Feel free to leave them out.
Tips
Need more carbs? Add a half cup of white or brown rice. For carbs with more protein and less calories, add quinoa.
Make the marinade ahead of time. You can make the marinade up to a week in advance. Just store it in the fridge in an airtight container.
Want a shortcut? Use a healthy bottled teriyaki for the marinade. Purchase frozen stir fry vegetables instead of buying and preparing fresh produce.
How long does it last in the fridge?
You can keep this stored in the refrigerator in an airtight container for up to 5 days.
Can it be frozen?
Yes, you can freeze this chicken teriyaki meal prep for up to six months. Be sure to store in an airtight freezer safe container.
More Chicken Meal Prep Recipes
Print
Teriyaki Chicken Meal Prep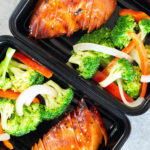 Author:
Prep Time:

1 Hour

Cook Time:

30 minutes

Total Time:

1 hour 30 minutes

Yield:

4

Category:

Chicken

Cuisine:

Japanese
Ingredients
Teriyaki Marinade
1/2 Cup soy sauce
1/3 Cup pineapple juice
3 Tablespoons honey
1 Tablespoon rice wine vinegar
1 Teaspoon sesame oil
2 Cloves fresh garlic, minced
1 Teaspoon fresh ginger, minced
Chicken
4 Chicken breasts
Sesame seeds (optional)
Veggies
1 Head of broccoli
1 Red bell pepper
1/2 Medium white onion
Instructions
Teriyaki Marinade
Add all the ingredients to a small sauce pan and stir to combine. Bring to a boil, then reduce the heat to a simmer. Constantly whisk while you simmer for about 5 minutes, until sauce thickens.
Remove from the heat and set aside to cool.
Chicken
Prepare your chicken by trimming off any excess fat.
Place the chicken in the container you're going to marinade it in. I like to use a glass pyrex container with a lid, Ziploc bags also work.
Once the marinade is cool, pour it over the chicken. Seal your container then place the chicken in the fridge to marinate. You can marinate for as little as 1 hour, up to 24 hours. The longer you marinade, the stronger teriyaki flavor it will have.
When ready to cook, preheat your oven to 425F. Remove the chicken from the marinade and place on a non-stick baking sheet or in a baking dish. Bake for 20-25 minutes, until the thickest part of your chicken has reached 165F (use this to quickly test).
Optional: If you want your chicken to get a nice brown color like mine, place under your broiler for 3-5 minutes.
Remove from oven and allow to cool for 10-15 minutes before thinly slicing. Distribute among 4 meal prep containers and garnish with sesame seeds, if desired.
Veggies
Remove the stalk from your broccoli and cut into florets. Add 2 inches of water to a pot, then add the broccoli and place the lid on. Bring the water to boil, and allow to steam 1-2 minutes. Remove the broccoli from the pot and distribute among your meal prep containers.
Core, then cut your bell pepper into slices. Slice the onion. Place 1/2 tablespoon of any oil or butter in a sauté pan. Over medium heat, sauté the peppers and onions for 3-4 minutes. Remove from the pan and distribute among your containers, placing it with the broccoli.
Once the veggies and the chicken have completely cooled, seal your meal prep containers with the lid and store in the refrigerator until ready to eat.
Keywords: chicken meal prep, chicken teriyaki, work lunch
10